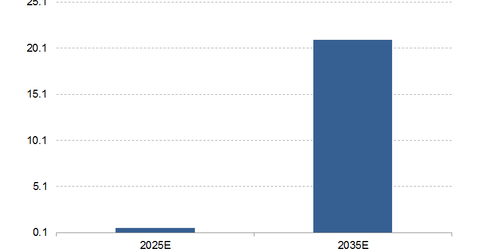 What Does Apple Want from the NHTSA?
By Ruchi Gupta

Updated
Autonomous vehicle in the works?
Apple (AAPL) may not have publicly acknowledged that it's working on an autonomous vehicle, but the company's actions belie its ambitions. The tech giant wrote a letter to the NHTSA (National Highway Traffic Safety Administration), offering its proposals on how the agency should develop guidelines for emerging technologies like driverless cars.
Apple not only said in the letter that it's investing heavily in autonomous systems, but it also recommended that the NHTSA should work closely with overseas transportation to create harmonized guidelines for automated vehicles. Apple appears to be hinting that it has a global view for its vehicle ambitions, which isn't strange considering the projections that 21 million autonomous cars could be sold globally by 2035.
Article continues below advertisement
Heavy investment in artificial intelligence
In addition to working on autonomous systems, Apple also revealed in its letter to the NHTSA that it's investing in machine learning. Perhaps such efforts could allow Apple to develop smarter autonomous cars that are better able to tackle traffic challenges.
Apple is believed to be working on an electric autonomous car under its secretive Project Titan, which is headed by Bob Mansfield, a company veteran.
In the autonomous vehicle market, Apple will have to contest the market with early movers such as Alphabet (GOOGL), Ford (F), Tesla Motors (TSLA), and General Motors (GM). Intel (INTC) has also partnered with BMW and Mobileye (MBLY) to develop fully autonomous cars that could be on the road by 2021.
Shrinking iPhone fortunes
Apple's (AAPL) car ambitions are seen as an answer to the company's shrinking fortunes in the smartphone market. The company has sold fewer iPhones and has posted declining quarterly revenues.
Apple is under pressure to not only return to revenue growth, but also to break its over-reliance on the iPhone for the bulk of its revenues and profits. In addition to the autonomous car project, the company has also diversified into the subscription music business with Apple Music and the wearable tech space with Apple Watch.