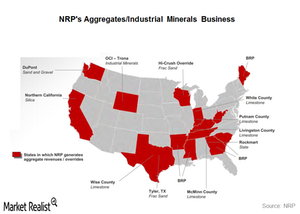 What Is Natural Resource Partners' Business Model?
By Sheldon Krieger

Updated
Natural Resource Partners' coal royalty business
As discussed earlier in this series, Natural Resource Partners (NRP) began its journey with its coal (KOL) royalty business. However, the continued downturn in the coal mining industry led the company to diversify its business over the years. NRP's coal royalty business includes the long-term leasing of the company's coal reserves to third-party coal mine operators, granting them the right to mine coal reserves on the company's property in exchange for a royalty payment. Natural Resource Partners isn't involved in the direct operation of any coal mines.
These lease agreements generally have a five-to-ten-year base term with an option to extend the lease for an additional period. According to company filings, these agreements also involve the right to renegotiate rent and royalties for the extended period.
Article continues below advertisement
Fixed and variable royalty payments
NRP's income from leasing its coal, aggregates, and industrial mineral reserves include both fixed and variable royalty payments. Variable payments depend on the sales price of coal by a company's lessees subject to a minimum royalty per ton. Therefore, NRP's coal royalty revenue is increasingly affected by changes in the market price of coal.
Apart from the variable pay, NRP receives pre-established minimum monthly, quarterly, or annual rental payments for the leased land. The lessee is obligated to pay these fixed payments even if no mining activity occurred during the period. It's important to note that the company carries these fixed payments as a liability in the form of deferred revenue on its balance sheet. The fixed payments are recognized as revenue, as the minerals are produced from the leased land. As a result, NRP's revenue and profitability largely depend on its lessee's ability to mine and market minerals from company reserves.
NRP periodically audits the reported production figures of its lessees and performs mine inspections to verify the reported information. In addition to the above, NRP owns and leases infrastructure assets related to coal and aggregate mining.
Next, we'll explore how NRP has diversified its business with acquisitions.