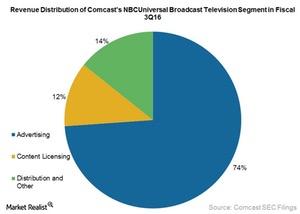 How Is Amazon's Bid for Live Sports Likely to Affect Comcast?
By Shirley Pelts

Dec. 20 2016, Updated 7:36 a.m. ET
Importance of sports programming for Comcast
According to a FierceCable report from October 2016, football ratings for Monday Night Football fell 24% in Week 5. The fall in ratings raised the question of whether viewers were moving away from watching live sports on television.
The report also stated that NFL (National Football League) game viewership had fallen 10% across all cable and broadcast networks broadcasting the games.
According to FierceCable, 21st Century Fox (FOXA), CBS (CBS), Comcast (CMCSA), and The Walt Disney Company (DIS) are ready to pay $40 billion through 2022 to broadcast NFL games.
Article continues below advertisement
Comcast reiterated the importance of sports programming for it at the JPMorgan Chase (JPM) Global Technology, Media and Telecom Conference earlier in 2016. According to Comcast, "What you're trying to do on the content side is make sure that you're using live programming of which sports is the best, among the best, to reach audiences and make your networks and channels must-have for carriage in all forms. So it helps drive retrains fees and affiliate fees obviously on the revenue line for the content side of the house."
Comcast's advertising business in 3Q16
Comcast's NBCUniversal Broadcast Television business earns the majority of its revenue via advertising and retransmission revenues. In 3Q16, Comcast's advertising business at its Cable Networks had revenue of $634 million, a rise of 7.7% year-over-year. The Rio Olympics were a success for Comcast in terms of advertising. It saw advertising revenue of $1.2 billion.
As the above chart indicates, advertising revenue made up 74% of Comcast's Broadcast Television business, with revenue of $2.2 billion in 3Q16.
If Amazon succeeds in its bid for live sports broadcasting, considering the popularity of online streaming, it's possible that more viewers could flock to Amazon's Prime Video service. As a result, Comcast's sports viewership and its sports advertising revenue could be affected in the long term.