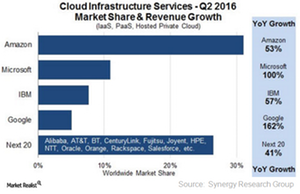 Why the AWS Contract Is So Important for Xilinx
By Puja Tayal

Updated
Different strategies of Xilinx and Intel's Altera
While Xilinx (XLNX) is looking to promote the adoption of FPGAs (field programmable gate array) among hyperscale data centers with its RAS (reconfigurable acceleration Stack), Intel's (INTC) Altera is focusing on integrating its FPGA with its Xeon processor to boost Xeon sales.
Intel's approach is suitable for lower-end applications that require acceleration of one FPGA, but this approach won't necessarily work in high-computing or hyperscale data centers where multiple accelerators are attached to a single server processor.
Article continues below advertisement
Why is the AWS contract so important for Xilinx?
Amazon Web Services (AMZN) is adopting Xilinx's strategy of pooled FPGA in its F1 instance cloud service. This win is very important for Xilinx, which has a 50% FPGA market share. According to Synergy Research Group, Amazon is the largest cloud service provider, commanding a 31% market share, followed by Microsoft (MSFT), with an 11% market share.
Notably, Altera supplies FPGA to Microsoft. This large gap between the size of Amazon and Microsoft determines the size of the order.
Intel has predicted that FPGA will be used by more than 33% of cloud compute nodes by 2020. With the above win from Amazon, Xilinx appears to be poised to tap the maximum portion of this growth estimate. Xilinx's one-year technology lead over Altera gives the former a first mover advantage and increases Xilinx's chances to tap maximum growth.
AWS opens new avenues for Xilinx
Apart from winning the FPGA contract of the largest cloud service company, its particular use of FPGA also opens up new avenues for Xilinx.
Microsoft (MSFT) is using Intel's FPGA for internal purposes, which means the cloud company could purchase just a few FPGAs, and then the order comes to an end. But Amazon is using Xilinx FPGAs to provide FPGA-supported service to third parties. Amazon is bringing FPGA as a form of service, under which the FPGA orders would depend upon the number of customers received by Amazon for this particular service.
In this way, both Amazon and Xilinx plan to bring FPGA into the mainstream market, and other cloud companies could not use Amazon's FPGA service to accelerate their computing. Instead, they'd have to deploy their own FPGAs, or else start similar services, boosting the overall demand for FPGAs.
For this opportunity to materialize, Amazon and Xilinx have to monitor their specific customers and quantify the benefits their customers receive from the FPGA service.
Continue to the next part for a look at how Xilinx is developing advanced FPGA products to stay ahead of the competition.