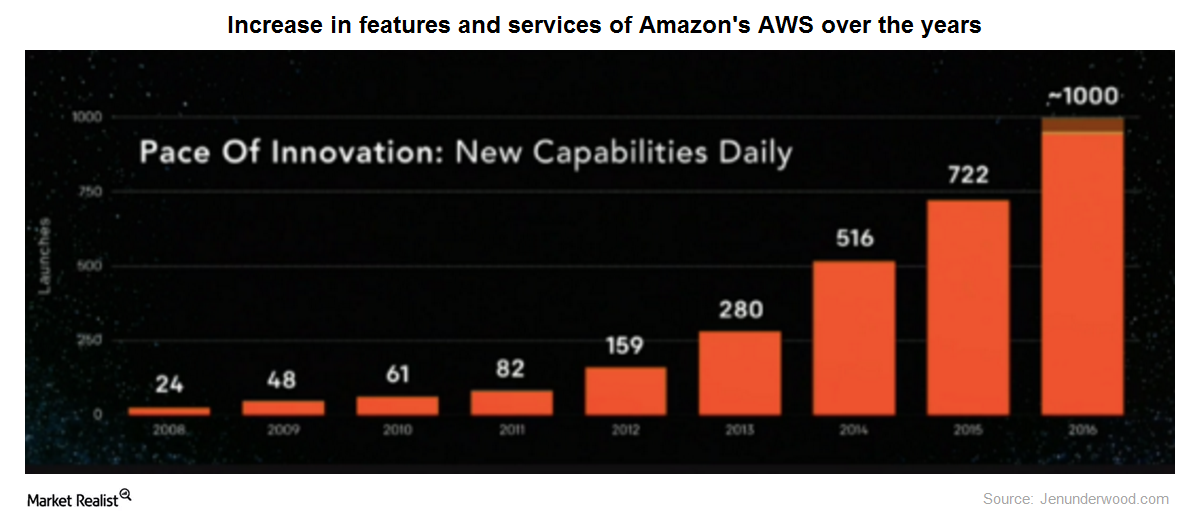 Why Amazon Poses a Threat to Tech Guns Microsoft and Oracle
By Anne Shields

Sep. 1 2020, Updated 10:48 a.m. ET
The threat of Amazon's AWS offerings
Amazon.com's most recent investment announcements show that the company continues to invest in AWS at a continually faster pace. By the end of 2016, the company is expected to add ~1,000 new features and services to AWS, which would compare favorably to the 722 new features it added in 2015.
Article continues below advertisement
According to thestreet.com, Jeffries analyst Brian Fitzgerald believes Amazon's increased offerings through AWS pose a threat to Microsoft (MSFT), Google (GOOG), IBM (IBM), and other cloud players. Fitzgerald stated: "With new features and services in 2016 on track to hit 1,000 (versus 722 introduced in 2015), the pace of AWS innovation is hard to match by any of its competitors."
Amazon's announcements carry significant weight in the technology space, especially in the cloud industry, as it is the undisputed leader of cloud space. Amazon.com (AMZN), Microsoft (MSFT), Google (GOOG), and IBM (IBM) collectively have 50% market share in cloud space.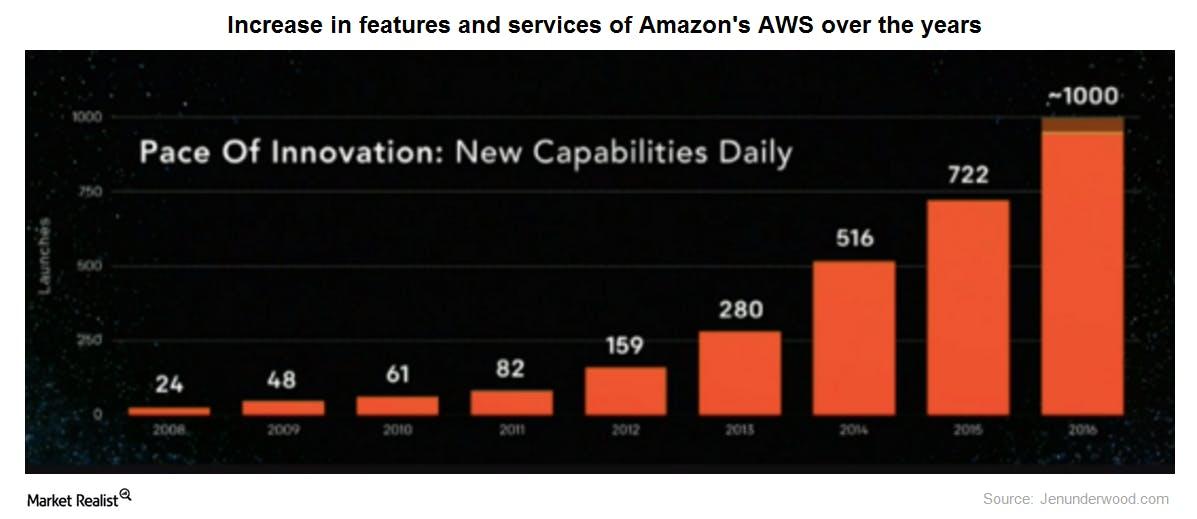 Article continues below advertisement
Amazon's increased investments in AWS and data centers
Amazon now provides data center services in 14 regions, and it aims to reach 18 regions by 2017, with the aim of accelerating cloud adoption across enterprises. In November, IBM announced its plans to add four new cloud data centers integrated with cognitive intelligence in the United Kingdom . Microsoft opened its first two UK data centers in September 2016.
In late 2015, Oracle's management shared that it had increased its data center delivery capacity from 0.5 megawatts to 45 megawatts—a whopping 90x rise.
John Dinsdale, Chief Analyst and Research Director at Synergy Research Group, stated: "What marks them out as different is their global presence, marketing muscle, ability to fund huge investments in hyperscale data centers and, in most cases, a determination to succeed in the market."
Amazon's AWS has been already witnessing stellar growth on higher demand and its use of cloud services. These new AI offerings and its investments in data center services should fuel AWS popularity as well as revenues.