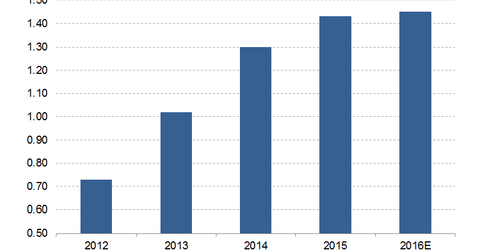 How Alibaba's YunOS Is Rattling Apple in China
By Ruchi Gupta

Updated
YunOS in more than 100 million devices
Alibaba's (BABA) YunOS has made significant gains in mainland China's smartphone operating system market. YunOS is set to be in 14% of smartphones shipped in China this year, overthrowing Apple's (AAPL) iOS, which has long held the position of the second-largest mobile operating system in China.
YunOS will be in some 100 devices by the end of this year. IDC says ~1.5 billion smartphones will be shipped this year.
Aside from smartphones, Alibaba has also adapted its YunOS to power tablets, TV set-top boxes, and Internet of Things devices. But how is Alibaba able to reverse Apple's gains in China?
Article continues below advertisement
YunOS supported by manufacturer subsidies
It turns out that heavy discounting is helping fuel the uptake of YunOS devices. Alibaba has partnered with several lower-tier Chinese hardware manufacturers to adopt YunOS in their products in exchange for subsidies.  Alibaba is offering subsidies of up to 60 Chinese yuan on TV boxes running YunOS, encouraging the manufacturers of such devices to stick to the operating system because it bolsters their thin profit margins.
Additionally, the subsidies are making YunOS more popular with low-income Chinese consumers who are attracted to the hefty discounts on devices running YunOS. Perhaps that would explain why the adoption of YunOS was 54% in China's smaller cities, with only 9% in larger cities such as Shenzen, Shanghai, and Beijing last year, according to Sino Market Research.
Alibaba's hefty subsidies on YunOS are not only hurting the popularity of iOS in China but also alienating Alphabet's (GOOGL) Android from China's low-cost smartphone market. Samsung (SSNLF) is the largest vendor of Android handsets in China.
What's Alibaba up to?
For Alibaba, the ultimate goal is not only to make YunOS the most popular operating system for smart devices but also to use the system to grow its e-commerce and other businesses. Through YunOS, Alibaba should be better able to understand the preferences and behavior of China's mobile users, allowing it to target them with more relevant content and advertisements. That way Alibaba can maintain its lead against rivals like JD.com (JD) and Baidu (BIDU).