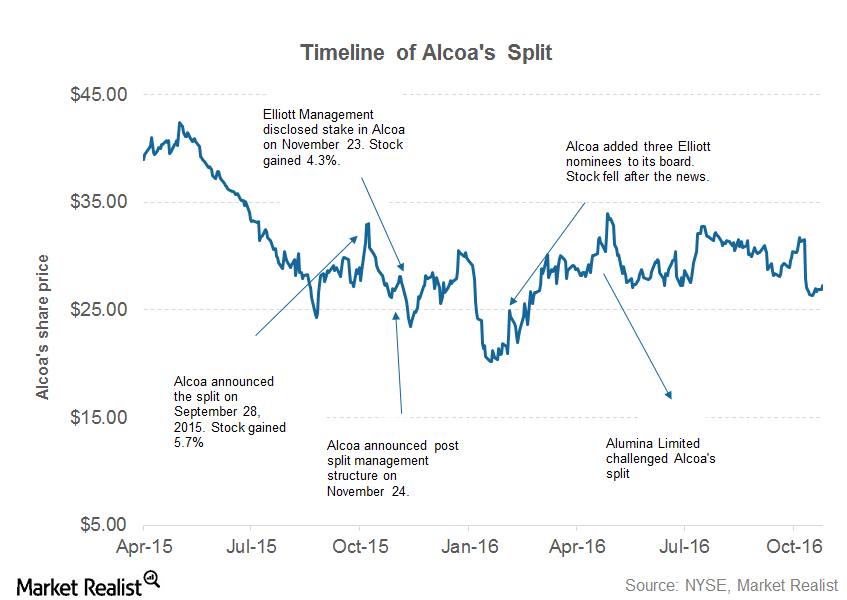 Alcoa Investors: Has the Commodity Cycle Turned Around?
By Mohit Oberoi, CFA

Dec. 14 2016, Published 4:46 p.m. ET
Commodity cycle
On November 1, 2016, Alcoa split into two new entities—Alcoa (AA) and Arconic (ARNC). The following graph shows the timeline of Alcoa's split.
The split completed the process that the company initiated in September 2015. While Alcoa saw decent upward price action, Arconic has been on a losing spree since the listing. Read Has Alcoa's Split Lived Up to the Hype? to find out more about the split.
Article continues below advertisement
Commodity play
Since Alcoa is a pure-play commodity producer like Century Aluminum (CENX) and Rio Tinto (RIO), its fortunes are closely tied to commodity prices. Notably, the sentiment in aluminum markets was subdued at the beginning of the year. However, commodities (DBC), including aluminum, saw upward price action after Donald Trump won the US presidential election. Aluminum prices were gaining strength even before the election.
Series overview
While aluminum and other metals recovered from their multiyear low price levels, there are lingering concerns about the sustainability of the rally. Several analysts doubt the recent uptrend in metals. Analysts expect prices to pare some of their gains once the euphoria over Trump's proposed infrastructure investments cools off.
In this series, we'll analyze the factors that are driving the current uptrend in aluminum prices. We'll also see how Alcoa and aluminum could play out next year under Trump's presidency.
Let's start by analyzing the different factors that are driving the current uptrend in aluminum prices.