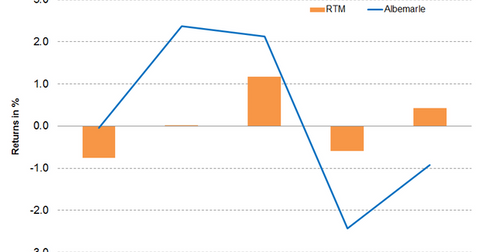 Albemarle Hikes Prices of Select Brominated Products
By Peter Neil

Updated
Series overview
In this series, we'll discuss the latest business updates and announcements made by chemical companies during the week ended December 2, 2016. These updates should help investors to stay updated on the latest news related to chemical companies. We'll also look at the stock performances of these companies for the week ended December 2.
Article continues below advertisement
Albemarle hikes prices
On December 2, 2016, Albemarle (ALB) announced a 5% price hike on select brominated flame retardants and bromine derivatives. These changes will come into effect on January 1, 2017, or as contracts allow.
Albemarle's price hike was influenced by rising raw materials prices. The company's price hike will likely not have any effect on its 4Q16 results. Because the hike is effective starting on January 1, 2017, it could affect revenue and the cost of goods sold in 1Q17.
Albemarle's stock price
On December 2, 2016, Albemarle's stock closed at $84.86, a rise of 1.0% for the week. Albemarle outperformed the Guggenheim S&P 500 Equal Weight Materials ETF (RTM), which rose 0.3% in the same period. Albemarle's stock was trading 2.8% above its 100-day moving average price of $82.52. 
Year-to-date, the stock rose a staggering 51.5%. It was trading ~85.4% above its 52-week low of $45.78 and ~4.4% below its 52-week high of $88.73.
Alternatively, investors can hold Albemarle indirectly by investing in RTM, which invests 3.8% of its portfolio in Albemarle. The other top holdings of the fund include Nucor (NUE), Martin Marietta Materials (MLM), and FMC (FMC) at 4.7%, 4.4%, and 4.4%, respectively.