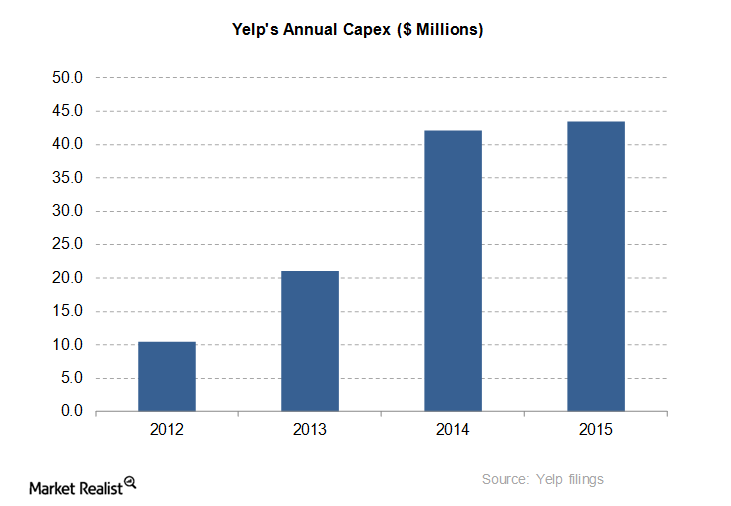 Has Yelp Finally Nailed Its Main Problem?
The company halts global expansion
Yelp (YELP) is pulling the plug on global expansion so that it can concentrate on serving local businesses in the US and Canada. But will halting international expansion put an end to Yelp's problems?
Yelp's operating expenses rose sharply in three years to more than $571 million in 2015 from just $156 million in 2012. The company spent $43.5 million on capital expenditure in 2015, up from $10.5 million in 2012.
With the soaring costs, it has come to a point, it seems, that Yelp's management has realized that massive investment to grow the business abroad has achieved little. Thus, the management now sees no need to continue on a money-losing course.
Article continues below advertisement
Headcount reduction
On top of halting global expansion, Yelp also announced planned layoffs of 4% of its workforce, a move that would cut ~175 jobs and reduce the company's payroll burden. Whittling down the workforce and putting global expansion on ice should not only save Yelp money to reinvest in growth, but also herald a period of sustainable profitability. Since going public in 2012, Yelp has struggled to post ongoing quarterly profits.
Yelp's decision to focus on its domestic market instead of aggressive global expansion mirrors a move by Groupon (GRPN), which also decided to halt its globalization amid soaring costs and losses.
However, Yelp's exit of global markets could come back to haunt it in the future when the US and Canadian markets have matured and it must seek new growth opportunities overseas. Perhaps when Yelp resumes global expansion, competition will be more intense.
Yelp generates the bulk of its revenue from selling ads. For ad revenue, the company competes with giants like Facebook (FB), Twitter (TWTR), and Google by Alphabet (GOOGL). These competitors are aggressively targeting local business advertising, taking the competition to Yelp's doorstep.