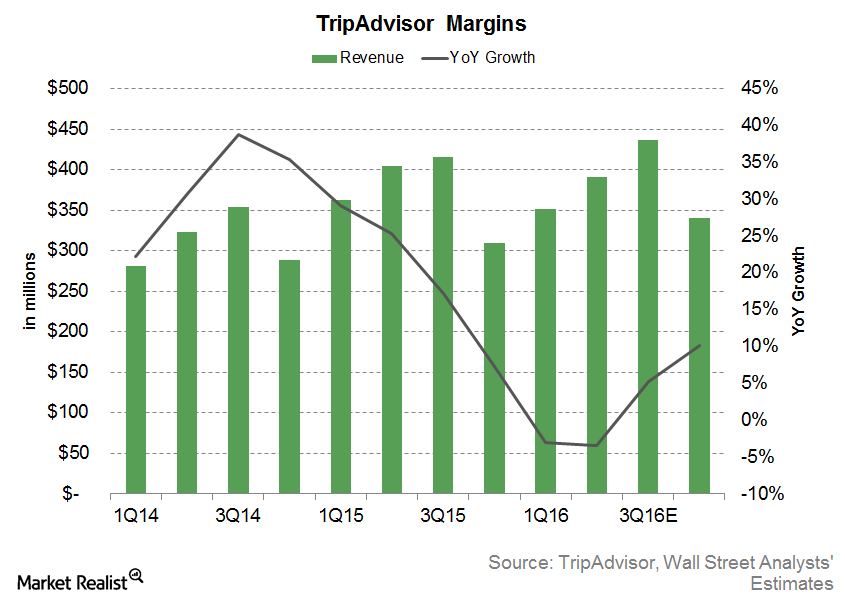 With Covetable Metrics, Can TRIP Book Revenue Growth in 2H16?
By Ally Schmidt

Nov. 4 2016, Updated 8:04 a.m. ET
Analysts' estimates
With 350 million unique visitors and 385 million reviews on 6.6 million accommodations, restaurants, and attractions, TripAdvisor (TRIP) has metrics any travel site would kill to have. Despite this performance, things aren't as rosy as expected.
For 3Q16, analysts expect TRIP's revenue to rise 5.2%, and they expect it to rise 10% in 4Q16. These estimates imply the potential for a full year revenue rise of 2% in 2016, lower than what was seen in 2015. Revenue is expected to rise to 15% in 2017.
Article continues below advertisement
Instant booking transition makes sense
As a travel metasearch site, TRIP makes money through online ads, deriving 46% of its 2015 revenue from Priceline (PCLN) and Expedia (EXPE). Introducing the instant booking feature made sense in two ways: It allowed for the diversification of revenue streams, and it completed the consumer value chain. Taking customers from reviewing and searching hotels to allowing them to book directly on the site seems the natural way forward.
Metasearch transition success gives hope
In 2012, TripAdvisor went from window pop-ups in hotel searches to a metasearch platform. Though revenue per shopper initially fell (by 8% in 2012 and by 13% in 2013), it started improving in 2014 (7% YoY). TRIP's management expects to run a similar course with the instant booking platform. However, investors should keep in mind that the two products are completely different.
Article continues below advertisement
Kayak's precedent
Kayak tried a similar stunt in 2012, moving from a metasearch site to a booking site and deriving almost 11% of its revenue from booking in 2Q12. However, as it turned out, instant booking wasn't a game changer for Kayak, and Kayak's CEO Steve Hafner believed that it wouldn't be for TRIP either.
Again, investors should remember that the two are very different. Kayak doesn't collect commissions on its instant booking, whereas TRIP does. Also, the scale and rigor that TRIP has put into the instant booking platform is far above Kayak's, giving investors much to hope for.
Changes in customer behavior difficult
Changing any behavior is a very difficult task, and TripAdvisor is trying to do just that with its instant booking platform. Despite the instant booking platform's making good business sense for TRIP, asking customers to book on TripAdvisor's site instead of through online travel agencies will be challenging.
As such, TRIP's partnership with Priceline was a key step forward, as we'll discuss in our next article. TripAdvisor forms 2% of the holdings of the First Trust Dow Jones Internet Index ETF (FDN), which also invests in EXPE, but not in PCLN or Ctrip (CTRP).