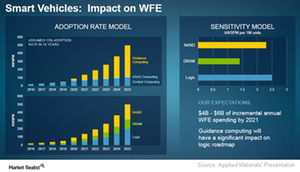 How Will Virtual Reality and Autonomous Cars Affect AMAT?
By Puja Tayal

Updated
AMAT's Logic equipment
Semiconductor manufacturing requires a range of equipment. As the industry moves towards VR/AR (virtual/augmented reality) and autonomous cars, the demand for material-intensive equipment is increasing. This trend could have a positive impact on Applied Materials' (AMAT) future revenue.
The share of logic in AMAT's Semiconductor Systems' revenue has fallen from 29% in 2012 to an estimated 16% in 2016, as the growth mainly comes from capacity expansion. The demand for logic could increase when autonomous cars hit the road. However, the industry is already experiencing overcapacity and logic chips can be manufactured using old equipment.
Article continues below advertisement
NAND
With the addition of new features, most smartphones need additional memory content. This has shifted smartphone makers towards NAND, which is 10x faster than DRAM (dynamic random access memory.) In NAND, memory makers are transitioning to 3D NAND. Moreover, the demand for memory, especially NAND memory, will likely increase as VR/AR and autonomous cars become popular. The demand may outdo supply.
Third-party research firms expect the NAND market to face a supply shortage by the end of 2016, which may encourage memory makers to increase capacity.
DRAM
While the future for NAND looks bright, that for DRAM seems volatile. The demand for DRAM equipment rose from 9% of the Semiconductor Systems revenue to 26% between 2012 and 2015 as there was a supply shortage in 2014 that encouraged memory makers to boost capacity.
However, demand fell, and this created an oversupply situation in the DRAM market in 2015. As a result, many memory makers temporarily halted DRAM production. Thus, demand for DRAM equipment is likely to remain volatile in the future.
Foundry
Growth in foundry comes largely from advanced technology and also from capacity expansion. Third-party foundries Samsung (SSNLF) and TSMC (TSM) are competing to release advanced nodes ahead of the other. It's a highly competitive market and their customer market is also highly competitive. Thus, the one who launches the new technology first stands to benefit.
For instance, two rivals AMD and Nvidia (NVDA) developed competitive GPUs (graphics processing units) Polaris and Pascal, respectively. While Nvidia manufactured Pascal from TSMC, AMD manufactured Polaris from Samsung. Similarly, Apple switched its foundry partner from Samsung to TSMC, and Qualcomm (QCOM) switched from TSMC to Samsung. Currently, the two foundries plan to start mass production of the 10-nm node by the end of 2016 and launch 7-nm soon.
The VR/AR and autonomous car trend is also driving demand for display equipment. We'll look into this in the next part of the series.