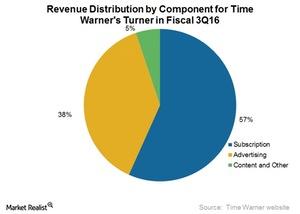 How Will Time Warner's Acquisition Help AT&T with Advertising?
Advertising outlook for Time Warner
In the previous part of this series, we saw how Time Warner's (TWX) premium content has been a key factor in AT&T's (T) acquisition of the company. In this part of the series, we'll look at the advertising outlook for the proposed combined AT&T–Time Warner entity.
Time Warner (TWX) stated in its fiscal 3Q16 earnings call that in fiscal 4Q16, it expects advertising revenue for the Turner cable network to be flat. However, its scatter advertising market is still up, with the pricing of advertising slots on its television networks in the United States in the "double-digits over the upfront." The company also indicated that in fiscal 4Q16, Turner's TNT network will have "fewer hours of original programming," which is expected to ramp up in 2017.
Article continues below advertisement
Time Warner also stated that when it comes to international advertising revenues, based on current exchange rates, it expects currency fluctuations to have the same impact as in fiscal 3Q16. In that quarter, international advertising revenues remained flat for Time Warner's Turner division. But excluding an 8% drag from currency fluctuations, it was up year-over-year in the high single digits.
As the above graph shows, advertising revenues comprised 38.0% of Turner's total revenues of $2.6 billion in fiscal 3Q16. Advertising revenues for Turner were $996.0 million in fiscal 3Q16.
Premium content drives advertising
In the previous part of this series, we looked at the premium content offered by Time Warner. AT&T stated in the company's fiscal 3Q16 earnings call that it expects viewership insights gained through premium content and the rise in subscribers across various platforms after its acquisition of Time Warner to help the company target advertising.
AT&T added, "Owning content will help us innovate on new advertising options, which combined with subscriptions will allow us to grow two-sided business models, help pay for the cost of content creation."