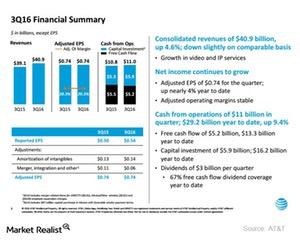 Will Ratings Agencies Downgrade AT&T on Its Proposed Acquisition?
By Shirley Pelts

Updated
Financial impact of the TWX acquisition
According to AT&T (T), its proposed acquisition of Time Warner (TWX) could benefit it financially. AT&T expects the acquisition to be accretive on an adjusted EPS (earnings per share) and FCF (free cash flow) per share basis in the first year following the close of the deal.
In late October 2016, AT&T announced that it would acquire Time Warner in a stock and cash transaction for $107.50 per share, a 36.0% premium. The transaction is valued at an equity value of $85.4 billion and a total value of $108.7 billion. The total transaction value also includes $21 billion of Time Warner's net debt. According to the terms of the transaction, Time Warner's shareholders will receive a 50-50 mix of AT&T stock and cash for their shares.
AT&T stated on its 3Q16 earnings call that the cash portion of the stock-and-cash exchange was financed with a $40 billion bridge loan and its existing liquidity.
Article continues below advertisement
The company also stated that considering the strong free cash flow of the combined company, AT&T expects its pro forma net debt-to-EBITDA[1. earnings before interest, tax, depreciation, and amortization] ratio to be ~2.5x in the first year following the close of the acquisition. It expects this ratio to be ~1.8x by the fourth year.
AT&T and ratings agencies
AT&T acknowledged on its 3Q16 earnings call that ratings agencies may be concerned about the debt taken on by the company. However, it also stated, "On the other side, the ability to generate $60 billion of EBITDA and $45 billion, so to speak, of annual cash from operations provides a great opportunity to service that debt."
AT&T also stated that considering it expects its net-debt-to-EBITDA ratio to go from 2.5x in the first year to 1.8x in the fourth year following the acquisition, it still expects ratings agencies to rate it as investment grade. AT&T further indicated that 90% of its debt "is locked into rates with about a 14-year average life."