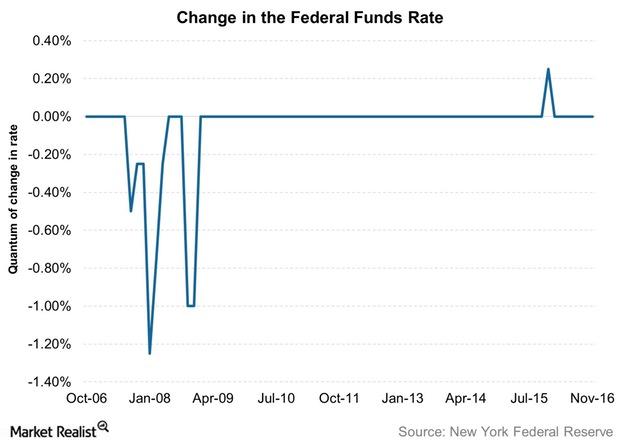 Will Rate Hikes Speed Up in the Trump Administration?
By David Ashworth

Nov. 18 2016, Published 10:21 a.m. ET
Rate hikes at a faster pace?
If you look at the Republican Party's stance on monetary policy in general and the Federal Reserve's in particular, you might assume that the pace of rate hikes is going to pick up.
John B. Taylor, the originator of the Taylor Rule, which we talked about in the previous part, said in July 2014 that the federal funds rate should already be at 1.0%. Nearly two and a half years later, we're still not at that level.
Article continues below advertisement
A rise in interest rates is one of the tools used under the contractionary monetary policy framework. A contractionary policy takes money out of the financial system. A central bank raises its key rate when economic growth has picked up sufficient pace and consumers are spending freely (XLP), thus risking a rise in inflation.
This action helps check inflation. Taking a cue from the central bank, commercial banks lower their rates. It increases savings because money will earn more than before. A rate hike also increases rates on loans. This discourages people from buying expensive goods such as automobiles and houses, thus checking spending (XLY).
Trump and rate hikes
If president-elect Donald Trump follows this path, he will certainly keep inflation in check, which will negatively impact economic growth. A contractionary monetary policy has such an impact.
The most direct impact will be due to a reduction in consumer spending (XRT), especially on discretionary items. On the other hand, investment will flow back to the United States (BIV) from emerging markets (EEM) due to higher rates.
In his campaign speeches, Trump sent mixed messages when it came to interest rates. Earlier, he was supportive of the low interest rate environment. But later, he seemed to agree with his party's line of thinking, accusing the Fed of creating a false economy by keeping rates low.
The Fed has reiterated its independence several times and has said that future rate hikes would be gradual. Could president-elect Trump actually be supportive of that line of thinking? Let's look at that in the next part.