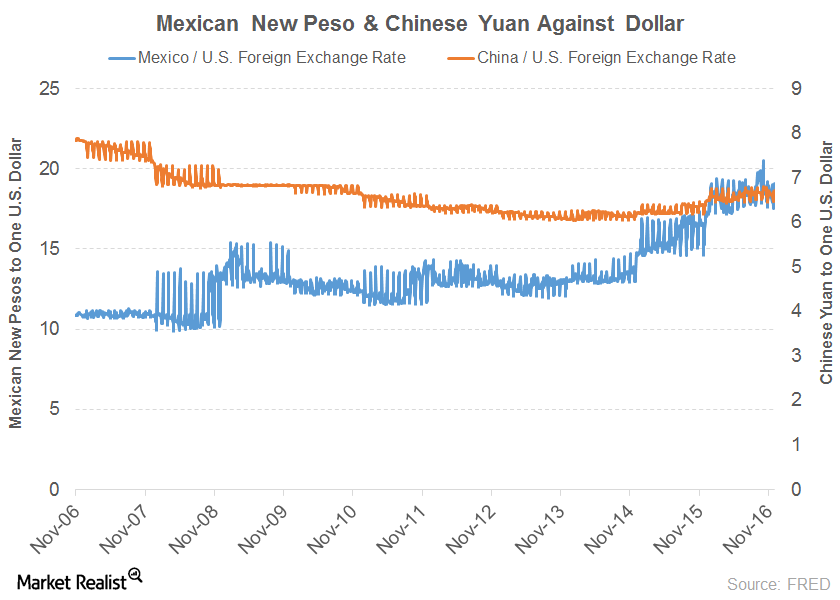 Will Donald Trump's Policies Drive Inflation Higher?
By Russ Koesterich, CFA

Nov. 22 2016, Published 10:08 a.m. ET
Higher inflation expectations
However, more recently real yields are no longer driving rates. While nominal 10-year yields are roughly 10 bps higher than their September peak, real yields have slipped. Instead, higher rates have been driven by higher expectations for inflation. Based on the 10-year Treasury Inflation Protected Securities (or TIPS) market, inflation expectations recently hit 1.75%, the highest level since the summer of 2015. See the chart below. To the extent that rates are being driven by changing perceptions of inflation and not real rates, higher interest rates may not be an impediment for gold.
Article continues below advertisement
This raises the question: Can inflation expectations continue to rise? Probably. Despite the sharp rise in inflation expectations, 10-year breakevens (the difference between the yield on a nominal fixed-rate bond and the real yield on TIPS) remain depressed relative to their long-term history. As recently as two years ago, inflation expectations were roughly 2.25%.
Market Realist – How will Donald Trump's policies drive inflation?
President-elect Donald Trump's policies have the potential to push prices and inflation levels up. If income and corporate tax cuts are implemented, they'll drive demand and prices through increased spending power.
Trump's proposed spending on infrastructure could lead to increased employment and growth as well as more money supply in the economy. If Trump's trade wars with China (FXI) (EWH) and Mexico (EWW) actually happen, import prices could rise, leading to inflation.
When the election results were announced, the Mexican peso fell 7.3% against the US dollar (UUP). The United States accounts for a sizable chunk of Mexico's imports.
Article continues below advertisement
High inflation expectations have caused widespread panic among investors, resulting in a bond sell-off. This has especially been the case for fixed-income Treasury bonds whose income gets eroded with rising inflation. The sell-off has resulted in a fall in bond (AGG) (BND) (BSV) prices. Bond yields, which are inversely proportional to bond prices, have risen.
A Fed rate hike and gold
A Fed rate hike is expected in anticipation of higher inflation and not real growth. So if the Fed decides to increase interest rates in December 2016, it shouldn't affect the demand for gold. The markets will remain volatile over the transition to a Trump presidency and whether Obama's policies will continue or be eliminated.
Gold prices started falling after the election due to a higher chance that the Fed will hike interest rates in December. The US dollar has been strengthening since Trump's victory in anticipation of policies that will boost the economy as well as the dollar.
The prospects of a Fed rate hike in December are boosting the value of the dollar, which is causing yield seekers to target the dollar. Gold will continue to be a safe haven, especially if the market is volatile amid widespread uncertainty over the policies of the new president.