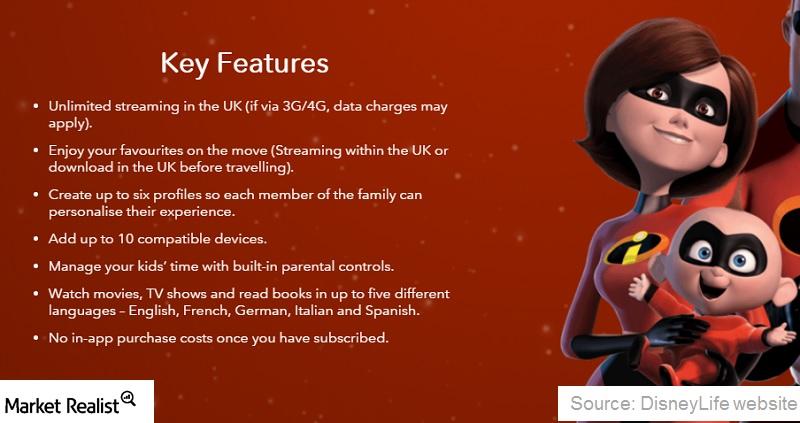 Will Disney Launch DisneyLife in the United States?
By Shirley Pelts

Nov. 30 2016, Updated 8:04 a.m. ET
Media companies launching direct-to-consumer offerings
According to a Bloomberg Business report, while television viewers in the United States are still subscribing to pay-TV companies such as Comcast (CMCSA), viewers in international markets are increasingly subscribing to over-the-top offerings from US media companies.
These direct-to-consumer offerings include The Walt Disney Company's (DIS) DisneyLife, which was made available in the United Kingdom (EWU) last year for the equivalent of around $14 per month. Considering the success and popularity of DisneyLife in the United Kingdom, Disney was asked during its fiscal 2016 earnings call whether the company intended to introduce DisneyLife or a similar service in the United States.
Article continues below advertisement
The company didn't rule out the possibility of DisneyLife in the United States but was reluctant to discuss the timing of the launch of such a service. The company further stated that in the United Kingdom, the company was still in the process of learning the correct pricing of the product, the nature of the product, its user interface, and the way it is distributed in that country. As a result, it wanted to get its product strategy right before launching it in any other country besides the United Kingdom.
Why DisneyLife in the United Kingdom?
According to the Bloomberg Business report, which cited data from IHS and Bloomberg Intelligence, cable penetration is lower in international markets than in the United States, which records 84% penetration for cable or satellite subscriptions. This difference could be one reason why Disney launched DisneyLife in the United Kingdom instead of the United States. Another reason could be that Disney wanted to test the service in a market with a strong affinity for Disney's brand.
At a Deutsche Bank (DB) investor conference earlier this year, the company stated that it has seen a good response to DisneyLife in the United Kingdom—mainly for movies and TV shows available through its over-the-top service.