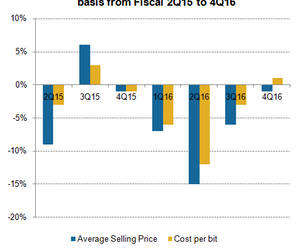 The Changing NAND Landscape and the Future of Micron's Earnings
By Puja Tayal

Updated
Current NAND scenario
NAND, the second biggest memory market, is also going through a supply shortage as major memory players transition to 3D NAND, which impacts their 2D NAND production, and as seasonal demand grows.
In this case, Samsung (SSNLF) will be the main beneficiary because it started mass production of 3D NAND more than one year ago. Micron Technology (MU), Intel (INTC), SanDisk-Toshiba (TOSBF), and SK Hynix are still ramping up their 3D NAND, which has increased their costs. Notably, NAND's ASP (average selling price) fell faster than Micron's cost per bit over the past seven quarters.
Article continues below advertisement
Micron's earnings from NAND
Micron earns 31% of its revenue from NVM (nonvolatile memory). In fiscal 4Q16, the company's NAND revenue rose 12% sequentially, driven by a 13% increase in unit shipments. This was partially offset by a 1% increase in cost per bit.
However, this situation is likely to change as supply shortage increase NAND prices. Moreover, Micron's 3D NAND output improved in fiscal 1Q17 and will continue to improve going forward, thereby reducing cost per bit.
Another aspect that should fare well for Micron is its 3D NAND structure. All players have their own unique cell structure but Micron's 3D NAND has the highest memory array efficiency, according to Tech Insights.
NAND demand
In fiscal 3Q16, NAND demand was largely driven by strong demand from mobile, which accounted for 17%–19% of total NAND revenues. Micron continued to earn ~50% of its NAND revenues from memory cards, USB, and other consumer components. It earned 13% of its NAND revenues from SSDs (solid state drives) and 17%–19% from automotive, industrial, and other embedded applications.
Micron's NAND market forecast
On the supply front, Micron expects NAND supply to grow in the high-30% to low-40% range in 2017, driven by the 3D ramp up by industry players. But Micron expects NAND demand to grow in the low- to mid-40% range in 2017 as memory content per device increases. This gap in demand and supply is expected to come about because the conversion to 3D NAND may disrupt a facility's output.
For this reason, given the anticipation of a supply shortage, Micron is investing in NAND capacity. We'll take a closer look at this in the next part of the series.