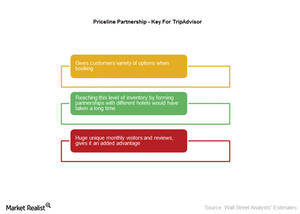 Why Was the Priceline Partnership a Key Milestone for TRIP?
A key partner
One of the key drivers of visitors' flocking to TripAdvisor's (TRIP) site is that it has 6.6 million listings, including restaurants, attractions, and vacation rentals. It has to ensure that it gives customers the same options when booking.
This is where TRIP's Priceline partnership seems to be an important step in its instant booking platform's success. Priceline's booking.com has 1 million listed accommodations spanning 225 countries and 96,000 destinations. Reaching this level of inventory by forming partnerships with different hotels would have taken a long time for TripAdvisor.
However, Priceline and TripAdvisor remain adversaries, and this partnership between the two companies may weaken going forward.
Article continues below advertisement
Competitive market
Travel is one of the few industries with exceptionally high future growth possibilities. Naturally, then, many players are vying for a share of this pie, including big fish such as Google (GOOGL) (GOOG), Amazon (AMZN), and Facebook (FB). While Amazon has currently given up on the travel space after killing Amazon Destinations, Google continues to enter the travel space, with Google Trips being its most recent attempt.
The OTA advantage
The advantage that OTAs (online travel agencies) such as Priceline and Expedia have over these new entrants is huge. Though the big players come with deep pockets, it will still take them a long time to gather the scale and inventory that OTAs have built over the years. Also, they have loyal customer bases that will be difficult to poach from.
Again, there is also the difficult task of changing consumer behavior. Users will not shift to a different site unless the other option is significantly better. Because OTAs continue to remain on top in terms of technology changes, continuously improving their game, this seems like a difficult task.
TripAdvisor's huge number of unique monthly visitors and reviews gives it an added advantage. Next, we'll look at the other initiatives TripAdvisor is pursuing to boost its revenue growth. TRIP makes up 1.6% of the First Trust NASDAQ-100 Ex-Tech Sect ETF (QQXT).