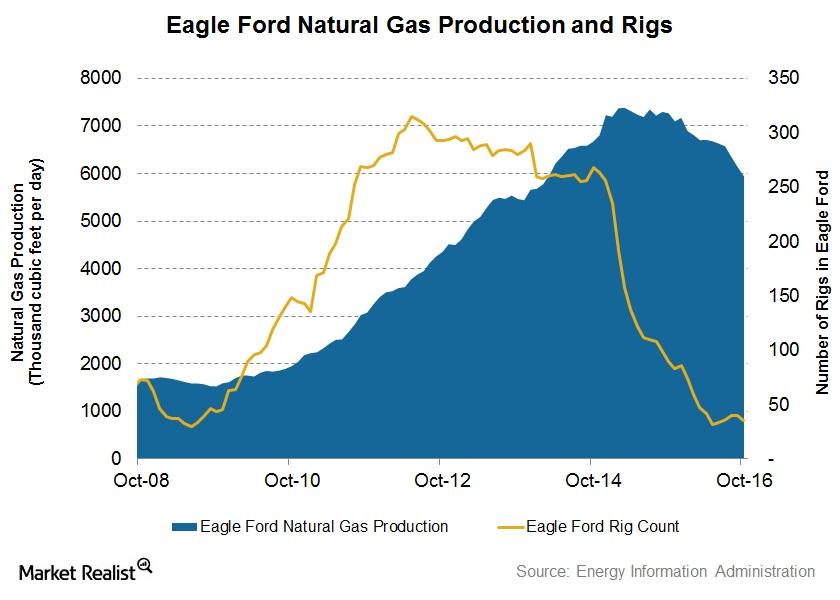 Why October Eagle Ford Natural Gas Production Fell 18% in a Year
Eagle Ford natural gas production
The EIA (U.S. Energy Information Administration) released its Drilling Productivity Report on November 14, 2016. The EIA estimates that natural gas production at the Eagle Ford Shale was ~5.9 Bcf (billion cubic feet) per day in October 2016. That's 3.1% lower than September 2016's production level and ~18% lower than its production in October 2015.
The Eagle Ford's natural gas production fell on ten occasions in the past 12 months. However, according to the EIA, the Eagle Ford Shale's natural gas production has risen 253% in the last eight years.
Article continues below advertisement
Eagle Ford crude oil production
Crude oil production at the Eagle Ford Shale rose from 57,699 bpd (barrels per day) in October 2008 to ~1.0 MMbpd (million barrels per day) in October 2016. That's a huge 17-fold rise in eight years.
Rigs and monthly additions from the average rig
The number of rigs working at the Eagle Ford Shale decreased to 35 in October 2016 compared to 40 in September 2016. In October 2015, there were 90 drilling rigs in the region.
The EIA calculates that the average Eagle Ford Shale rig added natural gas production of ~3.5 MMcf (million cubic feet) per day in October 2016, a 220% rise since October 2008. In the 12 months through October 2016, the production addition per rig rose 7%. Higher production per rig benefits natural gas producers.
What it means for energy companies
Lower Eagle Ford production in the past year negatively affected oilfield services companies' revenues and profits. These companies include National Oilwell Varco (NOV), Baker Hughes (BHI), Patterson-UTI Energy (PTEN), and Helmerich & Payne (HP).
However, oilfield services companies can stand to benefit if drilling productivity in the Eagle Ford Shale stays strong. Helmerich & Payne forms 1.5% of the iShares Select Dividend ETF (DVY).
In the next part of this series, we'll look at production at the Utica Shale.