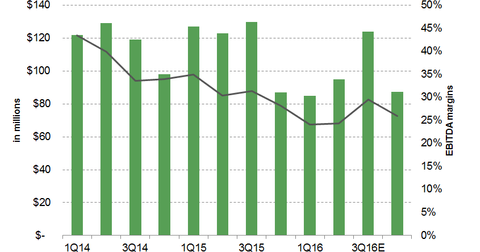 Why Is TripAdvisor Having a Tough Time with Earnings Growth?
By Ally Schmidt

Nov. 7 2016, Updated 8:05 a.m. ET
Analysts' estimates
In 3Q16, analysts expect TripAdvisor's (TRIP) EBITDA to fall 4.6% to $124 million, and it expects TRIP to have an EBITDA margin of 28.4%. For 4Q16, its EBITDA is expected to rise 0.29% to $87 million with an EBITDA margin of 25.6%.
This estimate means a -16.5% rise in TRIP's EBITDA in 2016 and an EBITDA margin contraction to 25.6% compared to 31.2% in 2015. Its EBITDA margin is expected to expand to 28% in 2017. As a result, its EBITDA is expected to rise 26% in 2017.
Priceline's (PCLN) EBITDA margin is expected to expand to 40.6% in 2016 over 38% in 2015. Expedia's (EXPE) margin is expected to expand from 16.5% in 2015 to 18.6% in 2016, and Ctrip.com's (CTRP) margins are expected to fall to 4.4% in 2016 from 6.4% in 2015.
Article continues below advertisement
Advertisement costs to rise
TripAdvisor relies heavily on Google-generated (GOOGL) traffic. However, Google has been trying to enter the travel space for a long time now. There was Google Flights, Google Destinations, and now there's Google Trips.
With Google having always stated that it won't shy away from placing its own products before competitors', Google's foray into the travel space will likely be problematic for TRIP. This was already visible in TRIP's 2Q16 results, which saw its traffic rise just 3%.
As a result, TRIP will have to now start spending on traffic acquisitions. Already in 2Q16, the company's selling and marketing costs have risen to 52% of sales, compared to 47% in 2Q15 and 49% in 1Q16. This amount could rise further going forward.
As a result, the company's net profit has fallen 41% to $34 million, compared to $58 million in 2Q15.
Outlook
As TRIP's expenses are expected to rise faster than its revenue, its 2016 profitability will be mostly wiped out. However, TRIP's management expects its long-term growth story to remain intact. As CEO Stephan Kauffer said, "We continue to play the long game as we navigate our business to deliver the best user experience in travel."
TRIP makes up 1.6% of the NASDAQ-100 Ex-Technology Sector ETF (QQXT).