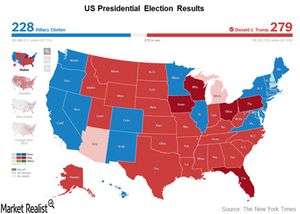 Why Did Coal Stocks Soar after the US Election Results?
The outcome
With a historic win, the Republicans will take control of both the Senate and House of Representatives in the United States. Defying the odds, Republican presidential candidate Donald Trump won the swing states of Florida, Ohio, and Pennsylvania.
Interestingly, the Republicans won the majority of the major coal-producing (KOL) states in the United States such as Wyoming, West Virginia, Kentucky, Pennsylvania, and Montana. In Wyoming, Republicans secured the highest percentage of total votes polled for any state. According to the EIA (U.S. Energy Information Administration), these five states together account for more than 60% of the total coal produced in the United States in 2015.
Article continues below advertisement
Performance of coal stocks
Why did they soar?
According to Donald Trump's "An America First Energy" plan, Trump intends to make America an energy independent nation by bringing out untapped fossil fuel reserves such as shale oil, natural gas, and coal. He also intends to eliminate the moratorium on federal coal leases introduced by the Obama administration in January 2016. According to the EIA, about 41% of total coal produced in the United States came from federal lands in 2014.
With Republicans at the helm, the future of the EPA (U.S. Environmental Protection Agency) and its Clean Power Plan remain uncertain. It's no wonder that coal stocks gained on the election results.
Continue to the next part of this series to learn more about the Clean Power Plan.