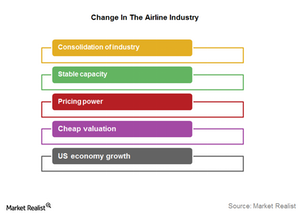 Why Did Buffett Change His Investment Philosophy on Airlines?
By Ally Schmidt

Nov. 20 2020, Updated 2:58 p.m. ET
Anti-fuel strategy
Berkshire Hathaway's (BRK-B) CEO, Warren Buffett, may not have changed his investment philosophy on airlines. What he may be betting on is the macro story of crude oil not recovering any time soon. Crude oil is trading below $50 per barrel, one of its lowest recent prices, and it is expected to take some time before it recovers, given the huge oversupply.
One of the biggest costs eating into airlines' margins has been huge fuel costs. With these costs under control and more stability in labor costs—the airlines' second-biggest cost—airlines have a better chance of maintaining profitability. Of course, other aspects of the industry's business model can work in Buffett's favor, which we'll discuss next.
Article continues below advertisement
Consolidation of the industry
The airline industry is well-known for destroying capital. One of the reasons for this tendency has been fierce industry competition, which leads to profit-eroding price wars among the carriers.
The airline industry has seen many bankruptcies—14 since 2000—including Delta Air Lines (DAL), American Airlines (AAL) , and United Continental Holdings (UAL), as well as two bankruptcies for US Airways.
This spate of bankruptcies led to a consolidation phase in which the four major carriers—Delta Air Lines, American Airlines, United Continental, and Southwest Airlines (LUV)—controlling ~80%–85% of the industry. Together, these four carriers posted profits of $21.7 billion in 2015.
For further details, please read Airline Mergers and Acquisitions: Are We There Yet? You can also read about the latest airline industry merger between Alaska Air Group (ALK) and Virgin America (VA).
Stable capacity
Another concern plaguing the airline industry has been the trend of carriers increasing capacity despite low demand. Many carriers are slowing their capacity growth, and this pattern is expected to continue in 2017.
Article continues below advertisement
Pricing power
Consolidation combined with slow capacity growth gives these carriers pricing power—exactly what Warren Buffett looks for in his investments. Please refer to our indicator series for more information about the airlines' success in hiking airfares this year.
Many US carriers have indicated that 2017 will see lower airfare discounts, allowing them to return to positive unit revenue growth.
US economic growth
Buffett has always been optimistic about growth in the US economy. In his 2015 letter to shareholders, he wrote, "For 240 years it's been a terrible mistake to bet against America, and now is no time to start." As we note in this series, economic growth is good news for airlines.
Cheap valuation
The four carriers in Buffett's portfolio—Southwest Airlines (LUV), American Airlines (AAL), Delta Air Lines (DAL), and United Continental (UAL)—are trading at ~5x forward EV-to-EBITDA multiple.[1. enterprise values to earnings before interest, taxes, depreciation, and amortization] This multiple is lower than their smaller peers Spirit Airlines (SAVE) and Allegiant Travel (ALGT), as well as the industry's multiple.
When Buffett bought these stocks at the start of 3Q16, airline stocks had fallen to their lowest levels in three to four years and valuations were dirt cheap.
Investors can gain exposure to airlines by investing in the Dynamic Leisure & Entertainment ETF (PEJ), which invests ~36.6% of its portfolio in airlines.