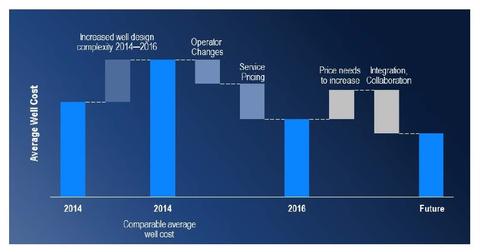 Why Cost Reductions Are Necessary for the OFS Industry
By Alex Chamberlin

Nov. 28 2016, Updated 8:04 a.m. ET
Why cost reductions are important
The steep fall in crude oil prices has forced many energy producers to operate at lower operating margins, as oilfield equipment and services (or OFS) providers have had to slash prices to protect their market shares.
OFS companies such as Baker Hughes (BHI), National Oilwell Varco (NOV), and Halliburton (HAL) have yielded to pricing concessions, but they've minimized the impact through significant cost reductions. Baker Hughes makes up 0.14% of the SPDR S&P 500 ETF (SPY).
Article continues below advertisement
How do OFS companies reduce costs?
According to Schlumberger's (SLB) estimates, average well drilling costs for unconventional resources have fallen 40% since 2014. The tenets of such reductions are:
increasing well design complexity, including drilling longer laterals with more hydraulic fracturing stages and completing larger fracturing jobs by using more sand
pad drilling with advanced AC (alternating current) rigs instead of legacy mechanical rigs
choosing the best acreage to drill
consolidating infrastructure
Land versus deepwater project viability
OFS companies have applied tighter process integration with their upstream clients to achieve effective cost reductions. This could lead to further potential savings in well costs. If crude oil prices strengthen, OFS companies could recover their pricing concessions. They could also start to renegotiate contracts that have been paused due to lack of profitability.
Investors may note that deepwater projects have been severely affected by energy price weakness due to their high operating costs. In order to be sustainable, these projects may require even more cost-cutting efforts from the OFS industry.
Next, let's discuss the bankruptcy trend in the OFS industry.