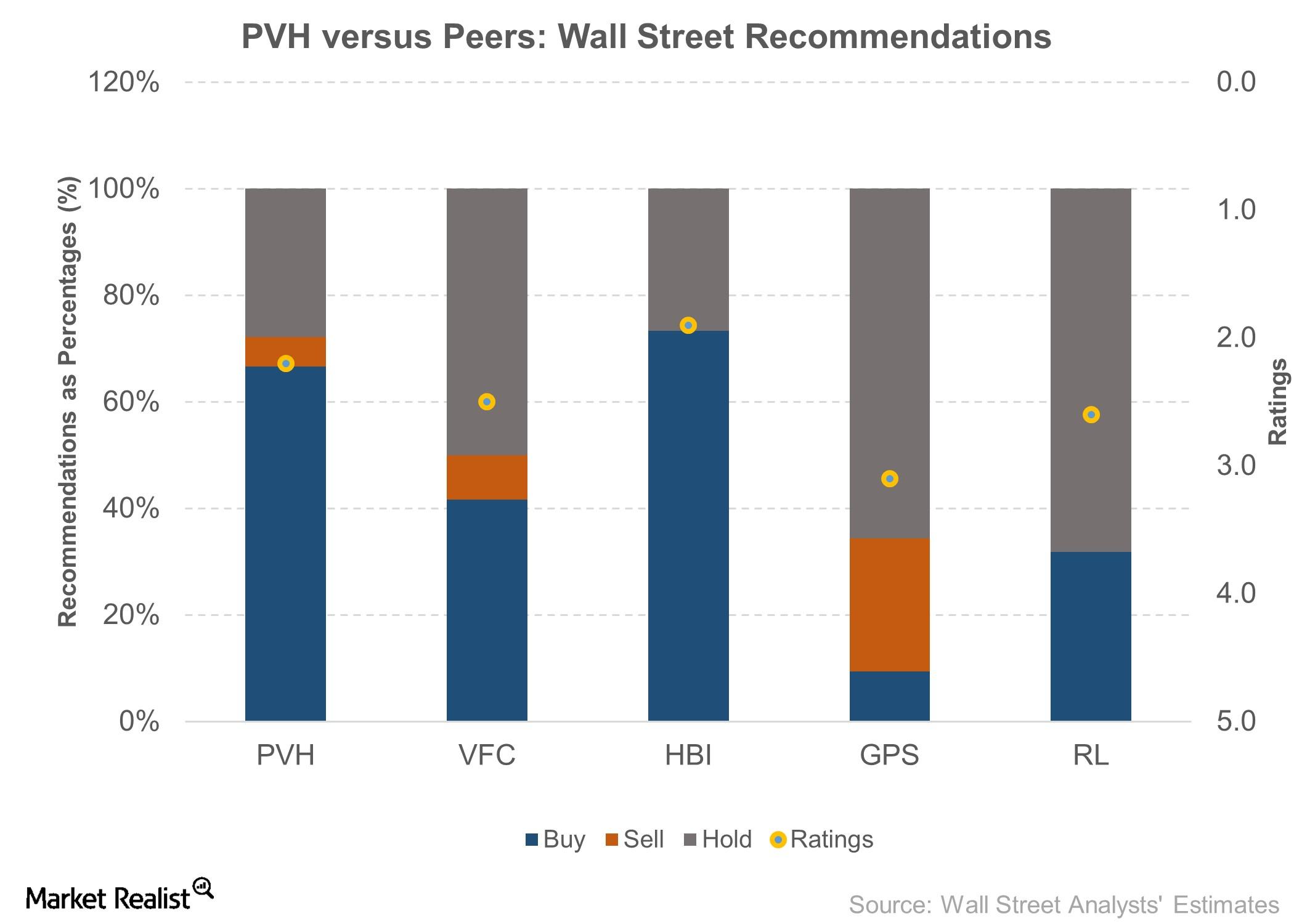 What's Wall Street's View on PVH and Peers?
Wall Street's view: PVH versus peers
PVH (PVH) has been rated by 18 Wall Street analysts, who have a neutral-to-positive outlook on the company. The analysts have rated the company a 2.2 on a scale of 1 (strong buy) to 5 (strong sell).
PVH has a better rating than peers Ralph Lauren (RL), VF (VFC), and Gap (GPS), which have been assigned ratings of 2.6, 2.5, and, 3.1, respectively. Hanesbrands (HBI), however, has an even better rating of 1.9.
Article continues below advertisement
Comparing Wall Street recommendations
67% of the analysts have recommended buying PVH stock, while only 42% and 32% recommend buying VF and Ralph Lauren. 73% recommend buying Hanesbrands and only 9% recommend buying Gap. 28% of the analysts have recommended holding PVH and 6% have recommended selling the stock. None of the analysts recommend selling Hanesbrands or Ralph Lauren.
Comparing target prices and gain potential
PVH is currently trading at $109, ~6% below its 52-week high price. Analysts expect the company's stock price to touch $118.70 over the next 12 months. This indicates an upside potential of ~9%.
Despite a 48% rise in share prices this year, the company has a better upside potential than VFC, Ralph Lauren, and Gap. While VFC's price is predicted to rise 6% over the next year, RL and Gap are likely to witness stock price falls of 4% and 1%, respectively.
Comparing valuation
PVH is currently trading at a one-year earnings multiple of 15.4x, operating closer to the upper end of its 52-week PE (price-to-earnings) range of 10.2x to 16.9x. The company, however, continues to trade at a discount to peers VFC and Ralph Lauren, which are valued at 16.7x and 20.2x, respectively. HBI and Gap are cheaper than PVH, trading at 11.6x and 13x, respectively. ETF investors seeking to add exposure to PVH could consider the First Trust Large Cap Value AlphaDEX ETF (FTA), which invests 0.81% of its portfolio in PVH.