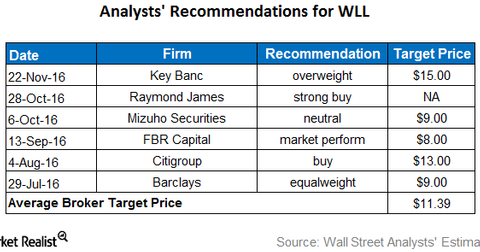 What's Wall Street Saying about WLL's Bakken Divestiture?
By Keisha Bandz

Updated
Wall Street vibes
In this article, we'll discuss how analysts view Whiting Petroleum's (WLL) latest divestiture announcement. According to Stifel, the assets sold equate to a ~9.4x EBITDA (earnings before interest, tax, depreciation, and amortization) multiple, 22% lower than the gas gathering and processing peer group average.
KLR Group estimated that the assets divested would generate an EBITDA of ~-$40 million, equating to an EBITDA multiple of ~9.4x, the same as was estimated by Stifel. According to KLR's estimation, the company will utilize ~$275 million of the divestiture's proceeds to pay down debt, while it will use the remaining ~$100 million to accelerate drilling in 2017. WLL's net-debt-to-EBITDA ratio is expected to fall to ~2.6x from the previous ~2.9x.
According to Stephens, the transaction would lower WLL's net debt-to-EBITDA to below 3.0x, assuming the conversion of mandatory convertible notes in 2017.
Article continues below advertisement
Analysts' projections
For the current quarter, 35 analysts have projected an average earnings estimate of -$0.33 per share for WLL. Low estimates stand at -$0.99 per share, and high estimates stand at -$0.21 per share.
The average revenue estimate for WLL is $354.0 million for the current quarter. The low revenue estimate stands at $309.2 million, while the high revenue estimate is $437.6 million.
Read Whiting Petroleum's 3Q16 Earnings and Revenue Disappoint to learn more about WLL's 3Q16 performance.
~22% of analysts surveyed call WLL a "strong buy," and ~57% of analysts recommend it as a "hold." Raymond James recently upgraded WLL to a "strong buy," as we can see in the image above.
The average target price for WLL is $11.39 compared to its current price of $10.12. This difference implies a potential return of 12.5% for WLL in the next 12 months. Analysts' high and low target prices for WLL are $20 and $6.9, respectively.
Whiting Petroleum makes up 0.74% of the First Trust Energy AlphaDEX ETF (FXN).