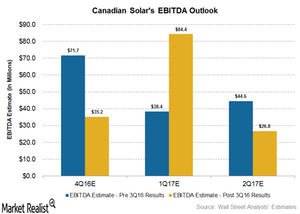 What to Expect from Canadian Solar's Future Earnings
Canadian Solar's 2016 guidance
Following its 3Q16 results, Canadian Solar revised down its US GAAP (generally accepted accounting principles) revenue guidance for 2016. The company now has a revenue guidance of $2.8 billion–$2.9 billion compared to its prior guidance of $3.0 billion–$3.2 billion.
For the upcoming quarter, Canadian Solar (CSIQ) expects its revenue to be $600.0 million–$750.0 million. It expects its gross margin to be 11.0%–16.0% in 4Q16.
Canadian Solar expects to complete the sale of certain utility-scale solar power plants in Canada and China either in the fourth quarter of 2016 or in early 2017. The total value of proceeds from the sale is estimated to be around $500.0 million.
Article continues below advertisement
According to US GAAP, the company is expected to recognize $150.0 million of these proceeds as revenue. As a result, the updated GAAP revenue guidance doesn't include sales of about $300.0 million of solar power plants assets. The profit from these remaining proceeds will be recognized as gain from the sale of projects under other income in the company's income statement.
The company expects to reach the high end of its revenue and gross margin guidance if all these solar power plant sales are completed in the fourth quarter of 2016. It expects to reach the low end of the revenue and gross margin guidance if all these project sales close in 2017 instead.
Analyst expectations
After Canadian Solar's 3Q16 earning results, analysts revised their 4Q16 EBITDA (earnings before interest, tax, depreciation, and amortization) and revenue estimates downward. For 4Q16, analysts expect CSIQ's EBITDA to be around $35.0 million compared to their pre-3Q16 earnings release estimate of $72.0 million. This is in line with the company's 4Q16 revenue and gross margin guidance.
Analysts also revised down their consensus 12-month target price to $16.86 from their pre-3Q16 earnings release target price of $18.84.
Outlook
Canadian Solar's 3Q16 results were driven by strong cost performance. Improved manufacturing efficiencies, better inventory management, and decreased purchase price of wafers and cells helped the company beat analysts' gross margin estimates for 3Q16.
Moving ahead, complete restoration of the company's Funing cell factory in China and its transition to the new diamond wire saw technology could have a positive impact on the company's gross margins from the second half of 2017.
However, in the long term, margins of upstream solar (TAN) companies such as Canadian Solar, First Solar (FSLR), SunPower (SPWR), and Trina Solar (TSL) largely depend on module ASPs (average selling prices) and PPA (power purchase agreement) pricing.