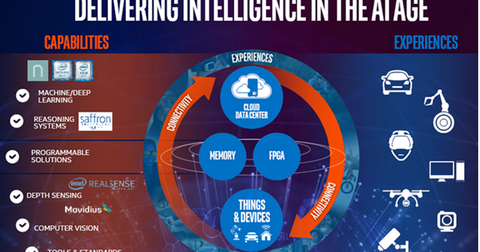 What Is Intel's Artificial Intelligence Strategy?
By Puja Tayal

Updated
Intel new to Artificial Intelligence
In the previous part of the series, we saw that Intel (INTC) is investing heavily in its Data Center segment, where growth is being driven by its Cloud and Network and Storage businesses. AI (artificial intelligence) is one area that has recently developed and is gaining ground.
The connected virtual world requires deep learning and AI to provide real-time data analytics. This has created a world of parallel computing where GPUs (graphics processing units) are used more than CPUs (central processing units). AI forms a very small part of Intel's revenues, whereas AI is driving Nvidia's (NVDA) Data Center revenues by 54% YoY (year-over-year).
Article continues below advertisement
Intel's AI strategy
Intel is moving quickly in the deep learning space with its AI strategy. Intel's AI strategy is to connect all its IoT devices to the cloud platform, as well as to support deep learning and AI capabilities through programmable solutions like FPGAs and 3D XPoint memory.
Firstly, to avoid the cannibalization effect of GPUs, Intel is offering its Xeon CPUs with FPGA (field programmable gate array) accelerators. Secondly, Intel has acquired AI and deep learning startups Nervana Systems, Movidius, and Saffron to integrate their technologies in its products. Thirdly, Intel has partnered with Google (GOOG) over machine learning, IoT (Internet of Things), Security, and Google's open source container system Kubernetes.
Intel–Google partnership
Intel was late to enter the AI market, and Google was late to enter the cloud market. Intel will work with Google to accelerate the latter's Tensorflow performance on the former's CPUs. Intel would connect its IoT devices with GCP (Google Cloud Platform) to provide real-time data analytics. Intel would enhance security integrations between its hardware and GCP.
With this partnership, both Google and Intel can reduce the technology gap in the cloud and data center space. However, the two have to move fast to stay with their competitors, as Nvidia is working with Baidu (BIDU) to develop a cloud-to-car HD mapping system. Plus, Amazon (AMZN) and Microsoft (MSFT) are using Nvidia's GPUs for their deep learning workloads.
Keeping the momentum going, Google will use Advanced Micro Devices's (AMD) GPUs to accelerate its deep learning capabilities. On the other hand, Intel is developing several products that would support AI. However, it still lags behind Nvidia in terms of technology.
Next, we'll look at Intel's AI product roadmap in detail.