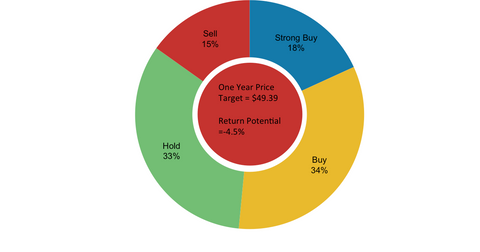 What Do Wall Street Analysts Suggest for Wells Fargo?
By Rebecca Keats

Updated
Most analysts rate Wells Fargo as a "buy"
Wall Street analysts have been critical of Wells Fargo (WFC) since its recent scandal broke. Most analysts are of the view that such a scandal will lead to a fall in the bank's valuations, tarnishing its image. Wells Fargo's cross-selling ability has driven its premium valuations in the past, but after this event, it may have to make changes to its business model.
Overall, six analysts have rated Wells Fargo as a "strong buy," while 11 have rated it as a "buy. " Wells Fargo has received 11 "hold" ratings and five "sell" ratings. Wells Fargo has a 12-month price target of $49.39, indicating a -4.5% return potential.
In an interview last week, Warren Buffet, the largest shareholder of Wells Fargo, shared his views on the bank after recent scandals. Buffet still holds the view that Wells Fargo is a "great bank," and he hasn't sold any of his shares of its stock. 
Buffett's Berkshire Hathaway (BRK.A) is the largest shareholder of Wells Fargo with holdings of ~10%, while Buffet (BRK.B) personally holds about 2 million shares of Wells Fargo. Buffet recently said in a CNN interview, "It's a great bank that made a terrible mistake."
Last month, several analysts downgraded Wells Fargo's ratings as news of the scandal surfaced. S&P Global Ratings lowered its outlook on Wells Fargo to "negative" from "stable" due to uncertainty. 
"Our outlook revision reflects the increased business risks for Wells over the past few weeks, stemming from accelerated reputational issues from the Sept. 8 news of the company's retail accounts sales misconduct over recent years," said S&P Global Ratings (SPY) credit analyst Barbara Duberstein.
Article continues below advertisement