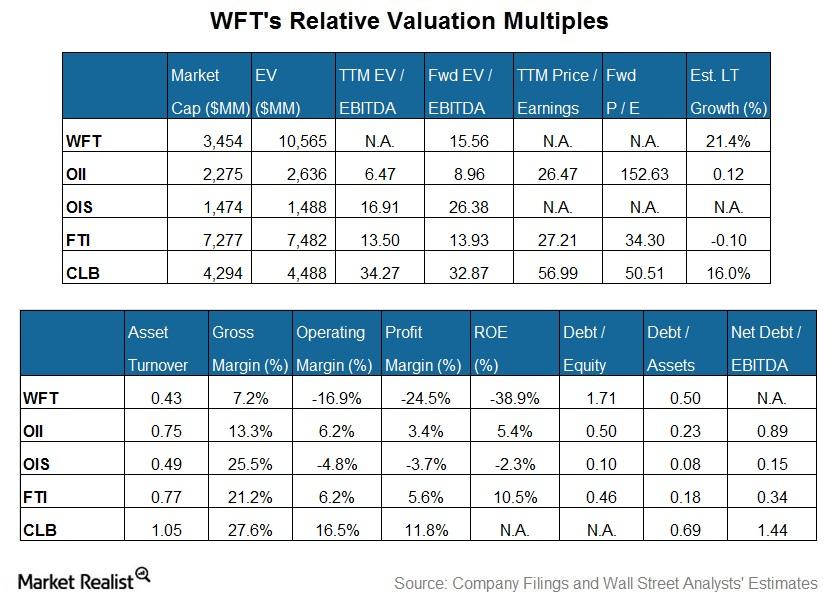 Here's Where Weatherford International's Valuation Stands next to Peers
Comparable company analysis
Article continues below advertisement
EV-to-EBITDA
Weatherford International's (WFT) EV (enterprise value, or approximately the summation of its equity value and net debt), when scaled by TTM (trailing-12-month) adjusted EBITDA (earnings before interest, tax, depreciation, and amortization) is not meaningful, given the negative adjusted EBITDA. WFT's EBITDA has been adjusted for severance and facility closures, impairment charges, and tax valuation allowances.
Forward EV-to-EBITDA is also a useful metric to gauge relative valuation. WFT's forward EV-to-EBITDA multiple is positive, which reflects analysts' expectations of a positive EBITDA in 2016.
Notably, WFT makes up 0.03% of the iShares MSCI ACWI Low Carbon Target ETF (CRBN).
Debt levels
WFT's net debt-to-EBITDA multiple is not meaningful because its EBITDA was negative in 3Q16. WFT's debt-to-equity multiple is higher than the peer average. A higher multiple indicates a larger debt load compared to shareholders' equity and increased riskiness. This indicator is concerning when energy prices are volatile. OIS has the lowest debt-to-equity ratio in the group.
PE ratio
Weatherford International's valuation expressed as TTM PE multiple is not meaningful, given its negative adjusted earnings. Its forward PE is also not available, reflecting analysts' expectation of a loss in the next four quarters.
WFT's higher leverage may pose increased riskiness as well, and such factors can strain WFT's valuation. On the other hand, analysts expect a healthy 21% earnings growth for Weatherford International in the next three to five years. This could lift WFT's valuation in the medium to long term.
Now let's discuss WFT's short interest.