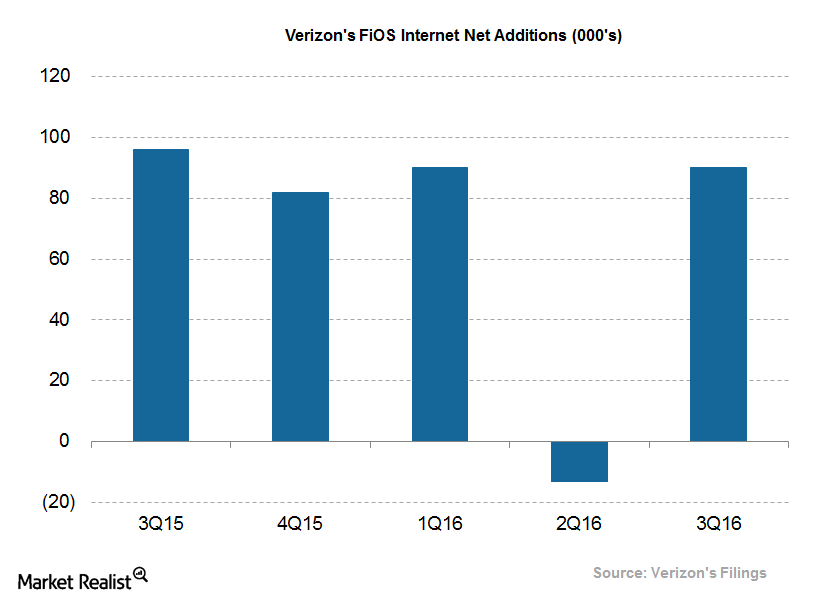 Verizon's FiOS Internet Business Is Growing despite the Strike
By Ambrish Shah

Nov. 21 2016, Updated 11:04 a.m. ET
Verizon's FiOS Internet net additions in 3Q16
In the previous part of the series, we looked at some pay-TV market trends that are affecting Verizon (VZ). The company is managing the secular challenges of the pay-TV space by focusing on its Internet offering through FiOS (Fiber Optic Service).
During its recent earnings conference call, Verizon management said the company added 90,000 new FiOS Internet customers, which was a pre-work-stoppage level. It appears that activity levels returned to normal levels more quickly than anticipated, resulting in better-than-expected FiOS volumes in the quarter.
In 3Q16, Verizon's FiOS Internet penetration rose 30 bps (basis points) to 40.4% compared to 40.1% in 2Q16. FiOS Internet subscribers rose ~4.7% on a YoY (year-over-year) basis to ~5.6 million in 3Q16.
In the third quarter, net broadband connections for Verizon rose only 24,000. Net gains in FiOS connections were slightly offset by fewer DSL (Digital Subscriber Line)-based Internet connections.
Article continues below advertisement
Verizon's wireline business growth is driven by FiOS
In 3Q16, Verizon's wireline business benefited from the return of FiOS after being affected by the labor strike in 2Q16. FiOS revenue of $2.8 billion rose 4.4% YoY in 3Q16. The main reason for this increase was a higher customer base, strong retention programs, and the demand for higher Internet speeds. Approximately 16.0% of FiOS Internet customers have opted for speeds of 100 Mbps (megabytes per second) or higher.
Verizon expects solid FiOS Internet net additions to continue since the company has overcome the impact of the strike. It believes it could see margin benefits from the new union contract over time.
Although Verizon managed to gain 90,000 net FiOS Internet customers in 3Q16, its biggest threat comes from cable companies such as Comcast (CMCSA) and Charter Communications (CHTR) as they manage to add the most Internet subscribers.