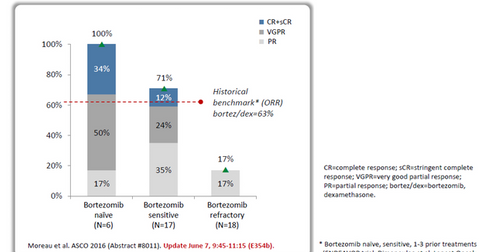 AbbVie's Venclexta May Become Promising Multiple Myeloma Therapy
By Margaret Patrick

Dec. 2 2016, Updated 11:04 a.m. ET
Multiple myeloma market opportunity
AbbVie (ABBV) and Roche Holdings (RHHBY), through its subsidiary Genentech, have completed a Phase 1 trial evaluating the use of Venclexta as a therapy for multiple myeloma (or MM) patients. On June 28, 2016, AbbVie initiated a Phase 3 trial studying the use of Venclexta as a therapy for relapsed and refractory MM.
According to AbbVie's R&D (research and development) Day transcript, MM is a disease that affects about 30,000 people in the United States annually. The disease results in 12,650 deaths in the United States every year.
Article continues below advertisement
Despite the introduction of multiple new medications from companies such as Celgene (CELG), Merck & Co. (MRK), and Amgen, MM has a low five-year survival rate of about 48.0%. There's a great need for innovative and effective medications for relapsed and refractory type MM. These statistics underline the scope of opportunity available for Venclexta in the MM space.
If Venclexta receives FDA (U.S. Food and Drug Administration) approval for MM, it may have a positive impact on AbbVie's share prices as well as those of the iShares S&P 500 Growth (IVW). AbbVie makes up about 0.56% of IVW's total portfolio holdings.
Phase 1 trial data
The above diagram presents data from a Phase 1 trial evaluating the use of a combination therapy of Venclexta and bortezomib, a proteasome inhibitor, in relapsed/refractory MM patients. Half of the tested patients demonstrated deep responses, which involved complete response and very good partial response rates. Solid response was generated in bortezomib-naïve and bortezomib-sensitive patient segments.
In addition to its combination therapy, Venclexta has also shown activity as a monotherapy in the MM space.