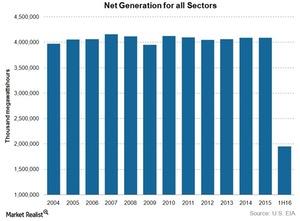 Utilities Overview: Looking at US Power Generation Trends
By Vineet Kulkarni

Updated
US net generation
China is the world's largest power-producing country, with more than 20% of total global output. The United States is the second-largest power-producing nation.
Electricity generation uses nearly 40% of the total primary energy consumed in the US, making it the largest sector in terms of primary energy consumption. Examples of primary energy include coal, gas, oil, wind, and water.
Article continues below advertisement
Generation
Generation is the total amount of power produced by a generator in a specific timeframe. Net generation is the total amount of gross electricity generated minus the power used to operate that plant. Generally, these operations use power for generation equipment, water pumps, pollution control equipment, combustion, and cooling air fans.
According to the EIA, ~4.1 trillion kilowatt-hours of electricity was generated in 2015 in the US, of which ~38% was used by residential customers and another ~38% by commercial customers. Industrial customers accounted for ~24% of total electricity sales.
As we discussed earlier in this series, power must be transmitted as soon as it is generated. Power storage isn't cost-efficient, and the process is still in its nascent stage. Therefore, any fluctuation in demand should be matched with immediate power supply.
Base load is the amount of electricity needed to meet the average demand based on the customers' expected use. The base load is susceptible to changes in weather.
Peak load is any demand higher than the base load and requires more energy output. Peak load occurs when power use is higher than the expected base load. Utilities (DUK) (SO) (XLU) should efficiently manage their base load and peak load in order to maintain their profit margins.