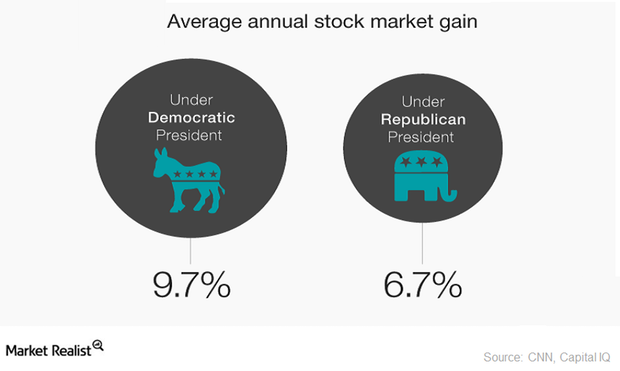 US Stock Market Performance: Republican versus Democrat
By Gordon Kristopher

Nov. 7 2016, Updated 8:42 a.m. ET
US election
On November 8, 2016, the US presidential election will determine the 45th president of the United States. The US has two major political parties—the Republican party and the Democratic party.
Hillary Clinton is the Democratic nominee, while Donald Trump is the Republican nominee in this election. Hillary Clinton is a senator and wife of former US president Bill Clinton. Donald Trump is a US businessman.
Article continues below advertisement
US stock market annual return
The US stock market (SPY) is volatile because the election is right around the corner. The Volatility Index of the S&P 500 (SPY) rose ~35.0% in the last week. S&P Capital IQ estimates that the US stock market's average annual return under a Democratic president and a Republican president is 9.7% and 6.7%, respectively.
US stock market and top presidential performer
The US stock market had top gains under former Republican president Gerald Ford in 1974–1977. During his tenure, the US stocks markets (S&P 500) rose by an annual average of 18.6%. However, former Democratic president Bill Clinton and President Barrack Obama had the second and third best returns for the US stock markets under their tenure. US stocks markets rose by an annual average of 14.9% and 12.6%, respectively, under these presidents.
The energy sector contributes to 7.3% of S&P 500 as of September 30, 2016—compared to 13.4% during the same period in 2008. We'll discuss the role of the energy market in broader markets later in this series.
Article continues below advertisement
Series overview
In this series, we'll discuss how the new US president could impact US energy (crude oil and natural gas) markets. Changes in the energy policy could lead to volatility in crude oil (XLE) (XOP) (USO) (UCO) and natural gas (UNG) (BOIL) (UGAZ) (FCG) prices. It could impact the economy and the broader stock markets.
The rollercoaster ride in crude oil and natural gas prices could impact oil and gas exploration and production companies' earnings such as ExxonMobil (XOM), Chevron (CVX), Marathon Oil (MPC), ConocoPhillips (COP), Comstock Resources (CRK), Northern Oil & Gas (NOG), and Triangle Petroleum (TPLM).
Volatility in crude oil and natural gas prices impacts ETFs and ETNs such as the Direxion Daily Energy Bear 3x ETF (ERY), the Fidelity MSCI Energy ETF (FENY), the United States 12 Month Oil ETF (USL), the SPDR S&P Oil & Gas Equipment & Services ETF (XES), the DB Crude Oil Double Short ETN (DTO), the Direxion Daily Energy Bear 3x (ERY), and the United States Brent Oil ETF (BNO).
Next, we'll discuss how US crude oil production changed under the Republican and Democratic parties.