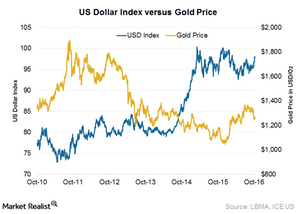 How Could the US Dollar Impact Gold after the US Elections?
By Anuradha Garg

Updated
The relationship of gold and the US dollar
Given a risk-off event, investors take refuge in safe-haven assets such as the US dollar, the Japanese yen, the Swiss franc, and gold. Unexpected events such as the Brexit vote in June 2016 pushed investors toward these assets.
A Donald Trump win in the November 8, 2016, election could be one such event, and safe-haven assets could come into play. However, over the medium to long term, the inverse relationship between gold and the US dollar (UUP) usually prevails.
Article continues below advertisement
Trump's policies
As the polls have started narrowing, the US dollar has come under obvious pressure in anticipation of a possible Trump win. A Deutsche Bank analyst has warned traders, however, not to extrapolate this pre-election trend to after the election.
Given the certainty and continuity of policies, a Hillary Clinton win could give the markets an initial relief rally. A Trump win could have a risk-off sentiment, pushing the US dollar and gold higher in the short term. That, however, could change in the long term.
Trump thinks that US interest rates are "artificially low." As president, he might push for higher interest rates. Higher rates could strengthen the US dollar, which could put pressure on gold as an asset class. However, in the long term, if we see a rise in the national debt under Trump, the US dollar could come under pressure, supporting gold.
Gold equities are usually a levered play on gold prices, magnifying the losses and gains made by the metal. This is also quite evident in the rises in equities such as Barrick Gold (ABX), First Majestic Silver (AG), Coeur Mining (CDE), and Newmont Mining (NEM) compared to the rises in gold prices.
Clinton's policies
Under a Clinton presidency, the current low-interest rate environment could continue for a longer period of time. This would prevent the dollar from rising. Clinton's economic policies are expected to be a continuation of the current administration's policies.