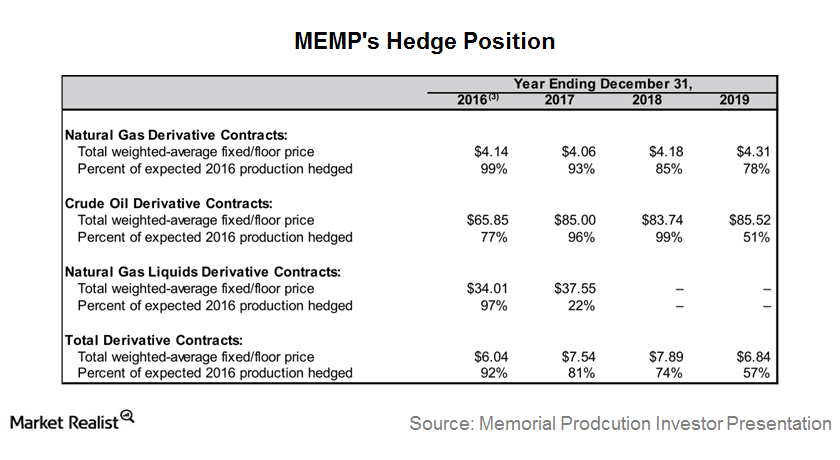 Which Upstream MLP Could Announce Bankruptcy Next?
Memorial Production Partners
In this part, we'll discuss which upstream MLP could be next to announce bankruptcy after Linn Energy and BreitBurn Energy Partners' bankruptcies. Memorial Production Partners' (MEMP) liquidity position was better compared to its peers including Vanguard Natural Resources (VNR), Legacy Reserves (LGCY), and EV Energy Partners (EVEP) until the borrowing base reduction announcement. Following the borrowing base redetermination, the partnership's liquidity position deteriorated significantly.
However, Memorial Production Partners might continue until 2018 considering its slightly better hedge position compared to its MLP peers. It doesn't have significant debt maturity until 2018. The partnership's revolving credit facility matures in March 2018.
Article continues below advertisement
According to William J. Scarff, the company's CEO, "The scope of the redetermination is disappointing given the strength of our operations and significant cash flow generation. We look forward to continuing discussions with our lenders, and we note that the redetermination will have no impact on current operations, which will continue in the normal course."
Vanguard Natural Resources
Vanguard Natural Resources is also going through a liquidity crisis. Recently, the partnership deferred $15 million in interest payment due on senior notes, which it eventually paid before the expiration of a 30-day grace period. Vanguard Natural Resources' liquidity position got worse after a borrowing base redetermination under its credit facility announced in May 2016. It had to repay the deficiency amount, which is $103.5 million, in six equal monthly installments. Vanguard Natural Resources' liquidity position is the worst among its peers. Its chances of surviving the current commodity environment look the slimmest.
Article continues below advertisement
EV Energy Partners
EV Energy Partners has a better liquidity position compared to its upstream MLP peers. It had $170 million of liquidity as of June 30, 2016.
Legacy Reserves
Legacy Reserves had $108.6 million of liquidity by the end of 2Q16. The company's position looks safe after it announced a $300 million term loan from GSO Capital Partners. For more details, read Legacy Reserves Has Announced a $300 Million Term Loan.