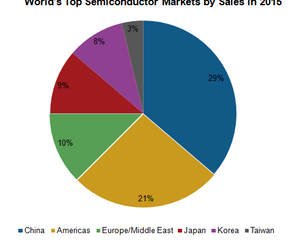 Could Trump's Trade Policies Put US in a Trade War with China?
By Puja Tayal

Updated
Early signs of a trade war with China?
In the previous part of this series, we discussed how US President-elect Donald Trump aims to bring jobs back to the US and set straight unfair trade policies with China (MCHI). According to the 2015 trade statistics, China exported $483 billion worth of goods to the US, while the US exported just $116 billion worth of goods to China.
During his election campaign, Trump said that he would restrict imports from China. Trump's campaign claims raise two questions. Would Trump close the US economy to the world? How would Trump's anti-globalization policies unfold in reality?
Article continues below advertisement
How are trade relations with China impacting US jobs?
Trump stated that most US jobs have been taken over by China and other Asian countries as many companies have shifted production there. According to data from the Economic Policy Institute, the US has lost 50,000 factories after China entered the WTO (World Trade Organization).
The institute also stated that the US trade deal with South Korea (EWY) rendered 100,000 Americans jobless and increased the Asian country's imports to the US by over $15 billion, with no growth in exports.
Trump aims to declare China as a currency manipulator and take strict actions to set things right with the country. In his campaign, Trump stated that he may impose a 45% tax on all Chinese imports if the nation does not stop its unfair trade practices. He also threatened to file trade cases against China in the US and with the WTO.
China's response to Trump attack
But China may not sit quietly—it could impose its own ban on automotive products and Apple's (AAPL) iPhones imported from the US, according to a Global Times editorial. According to the International Trade Association, China sources 91% of its semiconductor requirement through imports, of which 56% comes from the US. China is a major market for Qualcomm (QCOM) and Micron (MU), and it could ban imports from these companies.
Interestingly, President Obama made a similar attempt and tried to impose a 35% tariff on imports of Chinese tires. In response, China imposed tariffs on imports of American automotive and chicken products. The outcome resulted in huge losses by both nations.
We can assume that Trump's policy to impose a 45% import tariff would likely put further pressure on China to appreciate the yuan and would make trade relations between the two countries worse. To be sure, this would also hamper trade of other countries that rely on China for their exports.