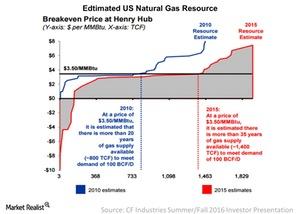 Trump's Presidency: A Double-Edged Sword for Nitrogen Producers
By Adam Jones

Updated
The Trump campaign
Agribusiness is not a top issue for many American voters. According to Pew Research, agribusiness doesn't even appear on the top ten issues list. However, certain policies could indirectly impact agribusiness (XLB). For example, Donald Trump's 2016 election campaign's energy policy page mentions his intention to "Encourage the use of natural gas and other American energy resources that will both reduce emissions but also reduce the price of energy and increase our economic output."
Article continues below advertisement
The resources
According to CF Industries (CF), the 2015 estimates of US natural gas resources stack up for more than 35 years at a break-even price of $3.5 per MMBtu. The cost of natural gas accounts for about two-thirds of the cost of nitrogen fertilizers. Lower fertilizer prices would mean an improvement in cost drivers for nitrogen producers such as CF, Terra Nitrogen (TNH), PotashCorp (POT), and Agrium (AGU).
While the low cost of natural gas is welcomed, we must be cautious when interpreting its benefits. Low-cost natural gas may encourage more players to add capacity. However, adding more capacity could eventually drive down fertilizer prices further. This will likely result in two scenarios in the long term:
Margins for natural gas producers will remain where they are.
Margins will expand initially and drop in the long term. The higher margins are attributed to the lead time for building natural gas capacity.
Clinton campaign
While the Trump campaign plans to fall back on non-renewable energy sources, the Clinton campaign has stressed clean energy reforms. This doesn't mean a peril for companies that depend on non-renewable sources of energy. The Clinton campaign page also states the need to repair natural gas pipelines in order to reduce harmful emissions.
However, a clean energy policy can bring about indirect costs to companies in the form of environment-related taxes. With most investors pricing in the estimates for one year forward, we'll discuss how markets could perform in the year following the presidential election in the next part of this series.