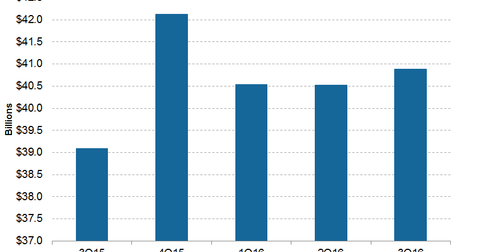 Trump Win Could Put a Cloud over the AT&T–Time Warner Deal
By Ambrish Shah

Updated
Politicians are voicing concerns over the acquisition
In the November 8, 2016, elections, Donald Trump became the next US president, and Republicans took control of both the Senate and the House of Representatives. Those events presented some uncertainty for media companies and, more specifically, lowered the probability of the AT&T (T)–Time Warner (TWX) deal being approved.
In his campaign before the election, Trump said at a rally that if he were elected president, he would be reluctant to approve the acquisition because it's "too much power in the hands of too few."
There's a fear that AT&T's acquisition of Time Warner could create a market monster. Also, Time Warner has a relationship problem with Trump because Time Warner owns CNN, which Trump has repeatedly accused of unfair news coverage.
Trump is generally viewed as favoring lower taxes, less government regulation, and minimal intrusion in business.
AT&T's definitive agreement to acquire Time Warner is a stock-and-cash transaction valued at $85.4 billion for Time Warner. The deal would create a vertically integrated company with best-in-class assets in content and distribution that could help grow AT&T's long-term earnings.
Article continues below advertisement
Creating new revenue streams
The graph above shows AT&T's revenue in the past five quarters. AT&T reported revenue of $40.9 billion in 3Q16. The acquisition of Time Warner is seen as another attempt by AT&T to pursue revenue growth outside its traditional carrier business, where competition has become more intense.
Smaller carriers, including T-Mobile (TMUS) and Sprint (S), are going out of their way to provide hefty discounts in order to steal market share from their larger rivals. However, a Trump presidency could frustrate the company's revenue diversification efforts.
The real motivation for AT&T acquiring Time Warner is that AT&T has been frustrated with lengthy negotiations in its attempt to acquire content from various content providers. A Time Warner acquisition would help solve this problem to a large extent, since acquiring Time Warner's content would be a seamless process and less time-consuming.
AT&T believes that after a difficult regulatory review process, it will successfully complete its acquisition of Time Warner at the end of 2017.