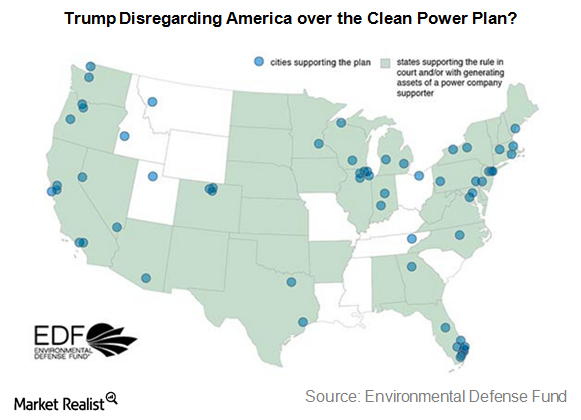 Trump Still Plans to Scrap the Clean Power Plan
By Vineet Kulkarni

Nov. 23 2016, Published 6:23 a.m. ET
Trump's plan for the next 100 days
On November 22, 2016, President-elect Donald Trump released his agenda for the next 100 days. He reiterated his support for minimizing the restrictions on the US energy sector and reducing environmental regulations. Trump also proposed to replace the Trans-Pacific Partnership with fair bilateral trade deals.
Since the election campaign, Trump has been promoting fossil fuels. He still intends to scrap the Clean Power Plan.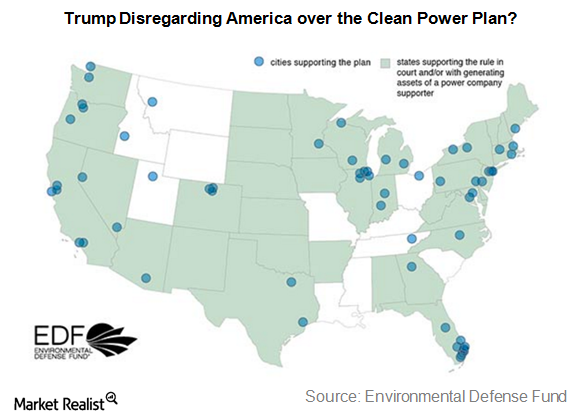 Article continues below advertisement
Growing uncertainty about the Clean Power Plan
The Clean Power Plan aims for a 32% reduction in greenhouse gas emissions by 2030 compared to the level in 2005. It focuses on natural gas, renewables, and the reduction of coal-based power generation. Many US utilities (DUK) (NEE) have been actively investing in renewable energy sources and low-emitting power generation capacities in the last few years. The Clean Power Plan's uncertain future raises questions about the billions of dollars that companies spent.
Interestingly, the US coal industry witnessed weakness largely due to increased competitiveness from natural gas. Coal (KOL) production has been falling. The sector saw large employment cuts. However, the employment cuts are a result of economic advantages provided by natural gas due to its severe price correction. Many utilities (XLU) turned away from coal to gas-led power generation in the last few quarters.
Environmentalists think that many large corporations and millions of people in the nation support the Clean Power Plan in order to protect the environment and promote clean energy. Trump's election doesn't mean that US citizens support coal-led generation and carbonization.
On the other hand, even before Trump's victory, the Clean Power Plan's fate wasn't certain. In February, many coal miners, some utilities, and more than 25 states opposed the plan. They said that the EPA was attempting to interfere with state authority.