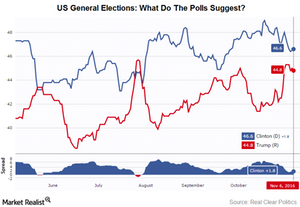 A Trump Presidency: What Are the Odds?
By Surbhi Jain

Nov. 22 2019, Updated 6:14 a.m. ET
Emerging markets and the election
The buzz surrounding the US (SPY) presidential race is reaching its peak ahead of the November 8 election. The various polls are mixed, making it difficult to determine whether it would be a win for Democrat Hillary Clinton or a win for Republican Donald Trump.
In either case, investors in emerging markets assets—equity (EEM) (VWO) or debt (EMB)—need to remain cautious with respect to their investments.
What may seem to be a developed market (EFA) (VEA) political event could have significant repercussions on emerging markets. Those invested in Mexico (EWW) and China (FXI) should remain particularly watchful. We'll discuss this in detail as we move ahead in this series.
Article continues below advertisement
What the polls suggest
According to Real Clear Politics's poll average on November 6, Clinton is leading the polls at 46.9%, with Trump at 44.8%, as shown in the above chart. The spread has widened since the November 6 polling of am average of 46.6% for Clinton and 45.3% for Trump on November 2.
The polling patterns show that every two months, we see these two candidates' polling results coming very close, generally toward the second half of the month, only to widen again for another two months. Throughout the past six months, Clinton has largely been winning the poll averages. However, the spread flipped toward Trump at the end of July, when he received the post-convention bump in the polls.
However, these polling results are not conclusive at this point. Poll data is based on the respondents' judgments of each candidate, which can be easily affected by any news regarding the candidate—negative or positive.
What would a Trump win mean to emerging markets?
However the election results shake out, one thing seems to be certain. A Trump victory may not be good news for those invested in emerging markets. Read on to understand why.