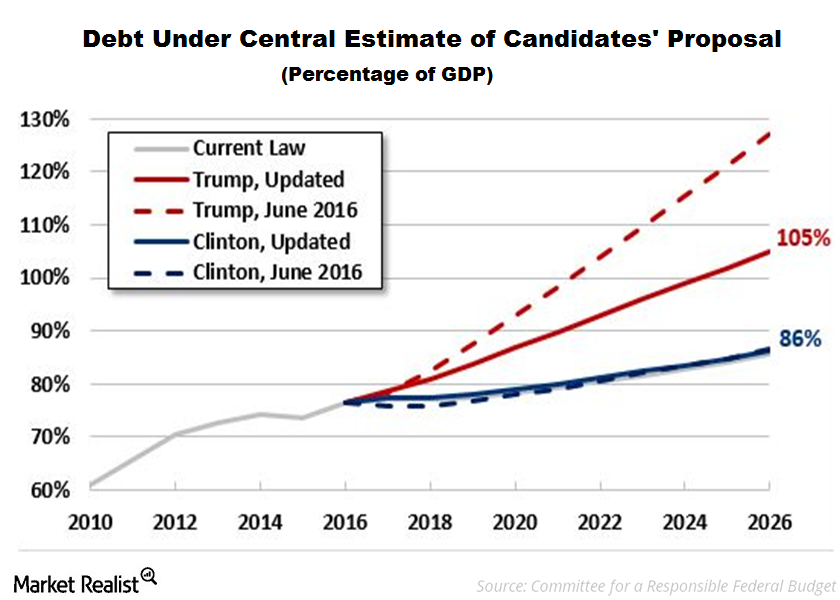 Trump or Clinton: Whose Policies Could Boost Freeport-McMoRan?
By Mohit Oberoi, CFA

Nov. 2 2016, Updated 5:04 p.m. ET
Trump or Clinton
Election fever is heating up as we approach November 8, 2016. Market observers are closely following the current election. This isn't surprising given the diametrically opposed stances of the two candidates on key economic issues.
In this article, we'll analyze the views of Hillary Clinton and Donald Trump on some economic issues. This will help us to understand whose economic policies could boost miners (XME) such as Freeport-McMoRan (FCX), Rio Tinto (RIO) (TRQ), and Teck Resources (TCK).
Article continues below advertisement
Infrastructure spending
Both Clinton and Trump intend to spend money on the infrastructure sector. A Trump presidency could see a higher allocation to infrastructure spending, as he's more comfortable with a higher budget deficit, but it may not give a big boost to copper demand. Note that investments in highways and bridges would boost cement and steel demand but would generate little incremental copper demand.
Solely from a copper demand perspective, a Clinton presidency would likely be a bigger boost. Clinton intends to spend money on renewable energy generation, which is copper-intensive. If we see a significant investment in renewable energy generation in the United States, the country's copper demand should rise in the medium to long term.
Nonrenewable energy
However, Trump's stance on nonrenewable energy may resonate with Freeport. Although Freeport has sold off several of its energy assets, it still holds some.
The current election could have ramifications across the US border as well. In the next article, we'll discuss how the two candidates' foreign policies could impact Freeport.