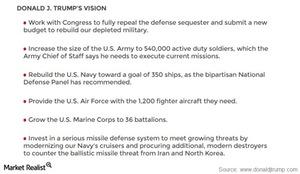 Defense Sector Stocks Achieve Liftoff from Trump's Victory
By Shannon Black

Nov. 10 2016, Published 2:42 p.m. ET
Defense sector gains from Trump's win
The surprise victory of Donald Trump in the US presidential election boosted defense industry (XAR) stocks. These gains were not restricted to the US, as gains were seen in defense stocks in the UK and Europe.
On November 9, Lockheed Martin (LMT) rose 6% and closed at $253.46. Northrop Grumman (NOC) rose 5.4% on the same day and closed at $242.30. Raytheon (RTN) shot up by a blistering 7.5% and General Dynamics (GD) rose 5.4%.
Article continues below advertisement
Because Republicans retained control of both legislative houses, investors expected that defense budgets would be easier to pass. However, Trump can effect changes only in fiscal 2019, as the fiscal 2017 budget spans October 1, 2016, to September 30, 2017. The fiscal 2018 budget will be submitted in February 2017.
What has Trump planned for defense?
Between the two major candidates, Trump was more specific about his defense policies. Tracing his figures to research provided by the conservative Heritage Foundation, Trump has stated his intention to add 1,200 fighter aircraft in the US Air Force and the number of surface ships and submarines by 75.
The Heritage Foundation called for defense budgets to be restored to the levels seen in fiscal 2012. If the figures in 2012 are used as estimates, defense budgets could be increased by $500 billion–$1 trillion.
Overall, Trump has hinted that defense spending needs to increase 15%. While it's too early to talk specifics about individual stocks, the defense sector could expect greater spending once Trump enters the Oval Office.