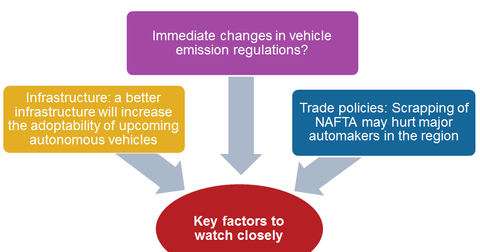 Trump or Clinton: Who's the Right Choice for the Auto Industry?
By Jitendra Parashar

Updated
US presidential election
Previously, we discussed how Ford Motor Company (F) might be in trouble if Republican nominee Donald Trump is elected as the next US president. The impact of the elections probably won't be limited to just Ford. There are many factors that could impact on the future of the US auto industry in general.
Article continues below advertisement
Trade agreements
The auto industry is one of the key beneficiaries of free trade agreements including NAFTA (North American Free Trade Agreement). Trade agreements help auto companies avoid heavy international trade duties. The agreements minimize the manufacturing costs in many cases.
Multinational auto companies such as General Motors (GM), Ford, and Fiat Chrysler (FCAU) take advantage of these policies. They're meant to encourage hassle-free trade between nations.
Trump's intentions to scrap many existing trade policies might not be favorable for automakers. At the same time, Hillary Clinton's stance also doesn't seem to be very clear when it comes to trade with China.
Within North America, Clinton might still support flexible trade policies. In contrast, Trump expressed his concerns about existing trade agreements like NAFTA. He thinks that the agreements are responsible for jobs moving out of the US.
As far as infrastructure is concerned, both presidential candidates seem to have similar plans to boost expenditure on infrastructure. Better infrastructure will likely support autonomous vehicles' adaptability as well as auto sales in general.
Auto industry's 3Q16 earnings