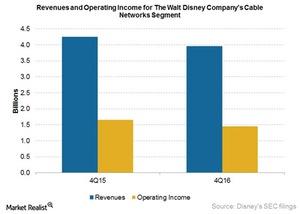 Why Does Time Warner Expect Affiliate Fees to Rise in Fiscal 2017?
By Shirley Pelts

Updated
Affiliate fees for Time Warner
Media companies like Time Warner (TWX) primarily derive their revenues from affiliate fees and advertising. Affiliate fees are the carriage fees paid per month per subscriber by MVPDs (multichannel video programming distributors) like Comcast (CMCSA) and Dish Network (DISH). Time Warner expects "double-digit growth" in affiliate fees for its Turner business division in fiscal 2017.
The reason that Time Warner expects a high rate of growth for its affiliate fees in fiscal 2017 is that it continues to "believe that the strength of the Turner networks and our position within the ad-supported cable market is going to be able to garner fair value, and we're going to do everything we can to continue to extract fair value for the value that we think that our networks are bringing to both distributors and consumers."
Article continues below advertisement
In fiscal 3Q16, Time Warner had a 15% year-over-year growth in subscription revenues in the United States for its Turner business division. Subscription revenues comprised 57% of Turner's total revenues in fiscal 3Q16 at $1.5 billion. The rise in subscription revenues was primarily driven by the growth in affiliate fees as Turner demanded higher rates as its affiliate fees agreements came up for renewal.
Disney's affiliate fees in fiscal 4Q16
The Walt Disney Company (DIS) is another company whose cable networks earn the majority of their revenues through affiliate fees. However, in fiscal 4Q16, operating income at Disney's Cable Networks was $1.4 billion, a decline of 13% year-over-year due to a decline in advertising and affiliate revenues for Disney's ESPN.
Disney further stated on the company's fiscal 4Q16 earnings call that the decline in affiliate fees for Disney's ESPN was a result of declining subscribers and a difficult comparison to fiscal 2015, as fiscal 2016 had an extra week of operations.