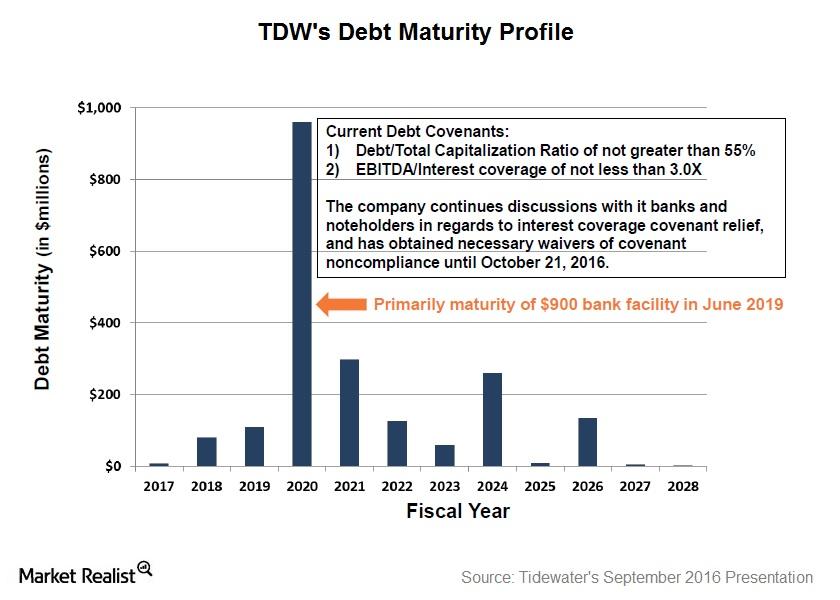 Tidewater Dodges the Bankruptcy Bullet: For How Long?
By Alex Chamberlin

Nov. 29 2016, Published 9:35 a.m. ET
Did Tidewater get a waiver?
On November 11, Tidewater (TDW) received a second extension of waivers against debt covenant compliances until January 27, 2017. It means that the company has until January 27 to amend its various debt arrangements with its principal lenders and noteholders in order to regain compliance. It should be noted that failure to comply with the conditions attached to the debts, including the revolving credit line and term loans, can result in dire consequences, including bankruptcy, for Tidewater. On October 21, Tidewater received a compliance waiver that extended the period until November 11.
Article continues below advertisement
What's Tidewater's debt covenant?
Investors should note that Tidewater wasn't in compliance with its covenants as of June 30, 2016, and September 30, 2016. Tidewater wasn't able to maintain the minimum interest coverage ratio of 3x. The interest coverage is the ratio of the EBIDTA-to-interest expense (earnings before interest, tax, depreciation, and amortization). On September 30, Schlumberger's (SLB) net debt-to-adjusted EBITDA was 1.8x. Currently, Tidewater is in discussion with its lenders and noteholders to re-arrange debts to regain compliance. Tidewater accounts for 0.03% of the iShares S&P Small-Cap 600 Value ETF (IJS).
Why did Tidewater lose compliance?
Tidewater is primarily an offshore service vessel provider to offshore drillers. Recent industry data show that the projected levels of offshore drilling activity can decrease more following energy price weakness. The low energy price reduced the demand for offshore support vessels. It led to lower vessel utilization. It also prompted the company to think that its earnings will stay low. So, debt servicing can become increasingly difficult considering Tidewater's leveraged balance sheet.