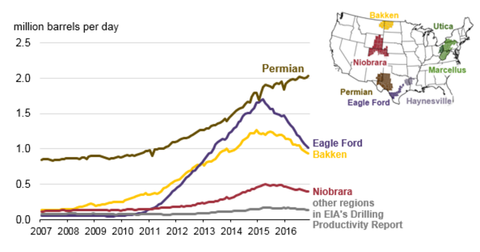 The Permian Basin: The Oil and Gas Industry's Darling
By Keisha Bandz

Updated
Permian basin
The Permian basin, which spans parts of West Texas and New Mexico, is considered one of the most prolific regions for oil and gas production in the US. The Permian basin can be divided into two regions: the Midland Basin and the Delaware Basin.
According to a report released by the EIA (US Energy Information Administration) on November 15, 2016, the Permian currently has almost as many active oil rigs—including both onshore and offshore rigs—as the rest of the US combined.
The above chart from the EIA's November Drilling Productivity report compares oil production in the Permian, as compared to other regions like Eagle Ford and the Bakken, between 2007 and 2016.
Article continues below advertisement
In addition to its impressive production profile, the Permian also boasts of one of the lowest break-even costs and high IRRs  (internal rates of return). This largely explains the flurry of M&A (mergers and acquisitions) activity in the Permian this year. According to the EIA, a large portion of E&P (exploration and production) and M&A activity involves the Permian basin.
How is CXO positioned in the Permian?
Concho holds an acreage position of ~1 million gross acres spanning the New Mexico Shelf, the Delaware Basin, and the Midland Basin regions of the Permian.
After its Permian acquisition, Concho Resources (CXO) expects to increase its total 2017 production by 18.0%–21.0%, as compared to its previous guidance of 17.0%–20.0% in its 3Q16 earnings call. CXO's oil production volumes are expected to rise more than 20.0% year-over-year.