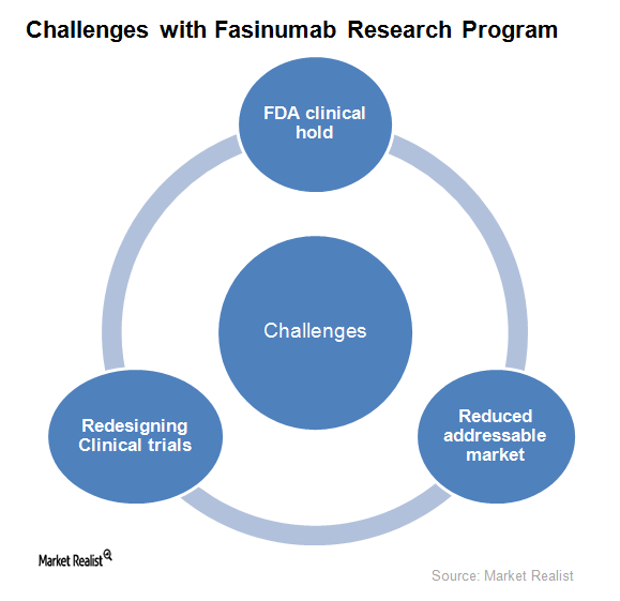 The Latest on Fasinumab, a Teva-Regeneron Collaborative Drug
Fasinumab developments
On September 20, 2016, Teva Pharmaceutical (TEVA) and Regeneron (REGN) entered into an agreement to co-develop and commercialize fasinumab, an investigational anti-NGF (nerve growth factor) for osteoarthritis pain and chronic back pain.
The subtitle of a September 20, 2016, Teva Pharmaceutical press release reads, "Novel Nerve Growth Factor (NGF) Antibody Has Potential to Address Limitations of Current Non-Steroidal Anti-Inflammatory Drugs (NSAIDs) and Opioid Therapies."
The press release stated that in the United States, there are approximately 60.0 million people either suffering with osteoarthritis pain or chronic back pain. A significant portion of those people don't respond well to existing therapies. This highlights the market opportunity for fasinumab.
If fasinumab is approved by regulatory authorities, it could boost Teva Pharmaceutical's share price as well as the share price of the First Trust Value Line Dividend ETF (FVD). Teva makes up about 0.43% of the ETF's total portfolio holdings.
Article continues below advertisement
Challenges in the fasinumab research program
On October 17, 2016, Teva and Regeneron announced that the FDA (U.S. Food and Drug Administration) had placed the Phase 2 study for fasinumab for the indication of osteoarthritis pain and chronic back pain on clinical hold. The FDA did this in response to a safety event observed when a patient already suffering with advanced osteoarthritis was administered a high dosage of fasinumab. The patient developed adjudicated arthropathy, a joint disease, as a side-effect of the clinical trial.
According to the FDA website, "A clinical hold is an order issued by FDA to the sponsor of an IND application to delay a proposed clinical investigation or to suspend an ongoing investigation. All or some of the investigations conducted under an IND application may be placed on clinical hold." IND stands for Investigational New Drug.
On May 2, 2016, Regeneron announced positive results from its Phase 2 and Phase 3 trials evaluating the efficacy of fasinumab in providing pain relief to patients suffering with moderate-to-severe osteoarthritis pain. Both Regeneron and Teva Pharmaceutical plan to redesign the study protocol of fasinumab's Phase 2 study, evaluating the drug for chronic back pain. The trial will include only those patients with early osteoarthritis.
The companies also plan to lower the dosage of fasinumab delivered to the patients in the trial. While these changes are expected to affect the overall addressable market size of the drug, Teva is confident that the impact will be minimal.
Pfizer (PFE) and Eli Lilly (LLY) are also testing their investigational anti-NGF drug for chronic back pain and osteoarthritis pain.
In the next part, we'll explore some key challenges Teva Pharmaceutical faces in 2016.