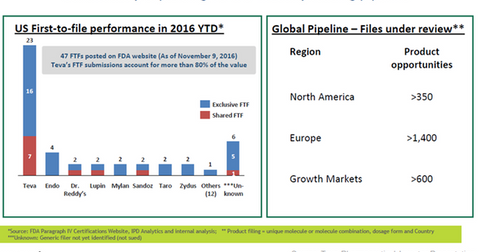 Teva Leads the Industry in First-to-File Applications in 2016
By Margaret Patrick

Updated
First-to-file applications
Teva Pharmaceutical (TEVA) is the leading generic pharmaceutical company in terms of first-to-file (or FTF) applications in the United States. A generic pharmaceutical company has to submit an abbreviated new drug application (or ANDA) to the FDA under Paragraph IV certification in case the drug under review is infringing on the patent estate of an innovator drug.
If these patents are proved invalid, the company that submits the first substantially complete ANDA is awarded 180 days of marketing exclusivity. In this period, the FDA doesn't approve any other generic version of the same drug.
Article continues below advertisement
A company with an FTF application can use this exclusivity either to launch the drug and capture market share or to enter into a pay-for-delay settlement with an innovator. Since this application could result in substantial gains, it's considered an important driver for generic pharmaceutical companies. To know more about Paragraph IV certification, read Is a Para IV Filing Rewarding for a Generic Company?
US first-to-file performance
Compared to peers Endo International (ENDP), Mylan (MYL), and Novartis (NVS) (through its subsidiary Sandoz), Teva Pharmaceutical has filed the highest number of FTF applications in 2016 on a year-to-date (or YTD) basis. Teva has filed 23 FTF applications in 2016, including 16 exclusive FTFs and seven shared FTFs. 
The company's FTFs account for ~50% of total FTFs filed with the FDA in 2016 on a YTD basis. Its FTFs also account for more than 80% of the total FTF brand value filed with the FDA in 2016 on a YTD basis.
If Teva Pharmaceutical manages to secure FDA approval for the majority of its FTF applications, its share price should benefit, as should the price of the iShares Edge MSCI Minimum Volatility EAFE ETF (EFAV). Teva makes up ~0.25% of EFAV's total portfolio holdings.
In the next article, we'll explore the future FTF and 30-month stay expiration opportunities available for Teva Pharmaceutical.