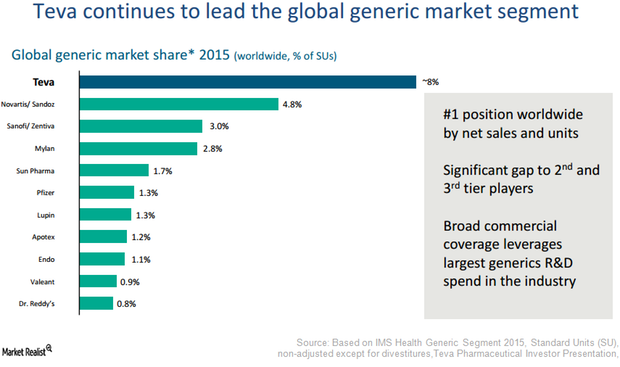 Teva Pharmaceutical Expects Mid-Single-Digit Growth for Generics
By Margaret Patrick

Nov. 21 2016, Updated 4:04 p.m. ET
Growth prospects the generics business
In 3Q16, Teva Pharmaceutical Industries (TEVA) reported increased price erosion of about 7.0% for its US-based business compared to 3Q15. The rise was attributed to higher pricing pressures for certain products as well as the divestiture of 79 products in the United States. The divestiture came as a result of FTC (Federal Trade Commission) requirements for the approval of the Teva-Allergan generics deal.
While these divestitures together earned $1.7 billion for Teva Pharmaceutical, most of them belonged to therapeutic areas with low competition. The divestitures resulted in higher-than-anticipated pricing erosion for the company.
Article continues below advertisement
Leading generic pharmaceutical company
Teva Pharmaceutical accounted for about 8.0% of the global generic pharmaceutical market in 2015. That figure is significantly higher than the market share of peers such ads Novartis (NVS) (through its subsidiary Sandoz), Sanofi (SNY), and Mylan (MYL).
Teva also expects to see lower pricing pressures than its peers due to its broad product portfolio. The company's diversified product portfolio across multiple therapeutic areas is expected to help it withstand pricing pressures. The company has a record of high service quality to its customers. However, it anticipates some pricing pressures for transition products that are close to losing their patent protection in the coming quarters.
If these projections are correct, there may be a positive impact on Teva's share prices in the future. Share prices for the First Trust Value Line Dividend ETF (FVD) could also rise, since Teva makes up about 0.43% of FVD's total portfolio holdings.
Next, let's explore the future growth prospects for Copaxone, Teva Pharmaceutical's leading multiple sclerosis drug.