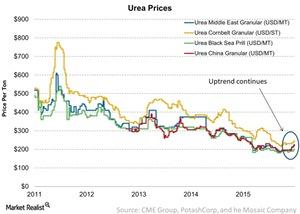 Urea Prices Rise in the Week Ended November 11
By Adam Jones

Updated
Urea prices
For the week ending November 11, the overall movement in urea prices was positive. Nitrogen investors (XLB) want to see more positive movements in fertilizer prices. Remember, urea is upgraded from ammonia. As a result, it's important to watch any movement in ammonia prices.
Article continues below advertisement
Granular urea
Last week, overall granular urea prices rose 3%. Prices in China rose 2.3% to $221 per metric ton compared to $216 per metric ton two weeks ago. Average weekly urea prices in the Middle East rose 4.9% to $225 per metric ton from $214 per metric ton two weeks ago. Over the same period, average weekly prices in the Corn Belt region of the US rose 3.4% to $222 per metric ton from $215 per metric ton two weeks ago.
According to CF Industries (CF), several Chinese anthracite-based producers closed their operations due to higher production costs. The closure continues to lift urea prices, as you can see in the above chart. Nitrogen producers such as CF Industries, Terra Nitrogen (TNH), CVR Partners (UAN), and PotashCorp (POT) will likely benefit if pressures from China ease. Granular urea prices at the above three locations fell 17% YoY (year-over-year).
Prilled urea
Prilled urea's average weekly prices rose 4.2% to $200 per metric ton in the Black Sea location for the week ending November 11. Prilled urea prices at the Black Sea location have fallen 24% YoY.
Next, we'll discuss natural gas, the key input material required for nitrogen fertilizers.